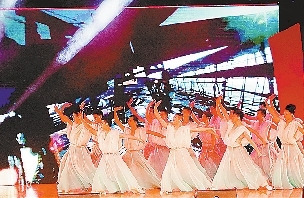 AS announced at the launch ceremony of the 2018 Futian Culture Space held at Futian Conference Hall on May 17, Futian District will bring a total of 106 cultural events of 43 categories to residents, which means that Futian residents will have opportunities to enjoy a cultural feast at their doorsteps.
The ceremony began with an exciting dance called "Passion." Nanfang Song and Dance Ensemble, which was awarded the title "Mountain Flower in South Guangdong Province" by Guangdong Provincial People's Government, also gave impressive performances, which were followed by an array of dazzling songs, dance and acrobatics shows.
Other highlights included the singing of Zhang Zhaoxi, a 2010 Asian Games contestant. His inspiring songs "On the Road to a Better-off Life" and "Beautiful China" received warm applause from the audience.
The ceremony also featured a song and dance show called "Inviting Guests to Drink Tea" in which Chao-shan people's movements of boiling, making, serving and drinking tea and the image of elegant and gentle Chao-shan women were vividly expressed.
In a magic show called "Magic Hands," award-winning magician Yang Jie first conjured up a tobacco pipe, and then six more suddenly appeared out of thin air, which wowed and amazed the audience.
Since the Futian Culture Space project was launched in 2015, it has successfully hosted 200 high-quality cultural events for people in neighborhoods, schools, companies and barracks, and all were well received. In 2018 the project will continue to present residents excellent cultural resources in an effort to bring refined culture to every family and real benefits to residents.
(Yang Mei)