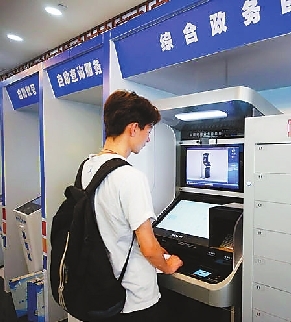 GOVERNMENT service has become available 24 hours a day, seven days a week after the first batch of 110 self-service machines was put into service in Futian District.
The district government held a launch ceremony for the self-service machines and the Intelligent Futian app on May 22.
As a pilot of the Shenzhen Municipal Government's self-service platform, the first 110 terminals have been deployed at the Futian District Administrative Service Hall, in 10 subdistrict offices and 95 community offices.
From now on, citizens and enterprises can apply for 1,488 items of administrative approval services provided by 34 government departments via the self-service machines after completing real-name authentication registration.
By simply swiping their ID card, citizens can inquire about and print certificates of social security coverage, statements of social security payments and housing provident fund payments, certificates of no ownership of real estate, certificates of tax payment and others. Additionally, the self-service machines provide 24 nongovernmental services like flight inquiry, bus and train ticket booking, exchange rate inquiry and wealth management service.
Also, the Intelligent Futian app provides 120 services to individuals and 170 services to enterprises, such as online medical appointments, household registration for overseas students and cloud arbitration and notarization.
The app also reduces the need to visit government offices when residents seek public services. They can scan their ID cards and other documents using their mobile phones and upload them to the relevant government departments through the app.
(A Ding)