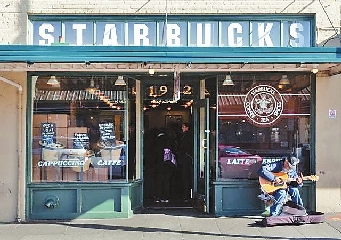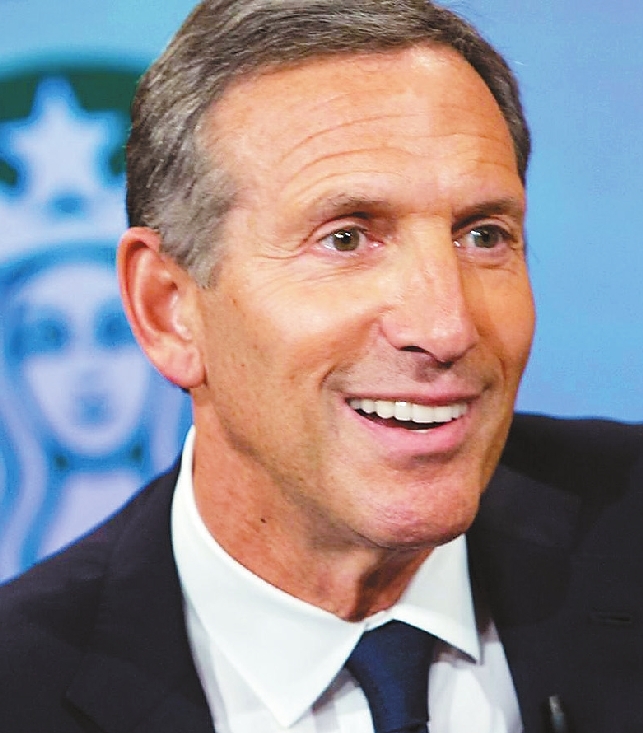 EVERYONE knows Starbucks, the ubiquitous retail chain that transformed the way Americans drink coffee. But few know Howard Schultz, the self-effacing mastermind behind the brand's astonishing growth.
By bringing Italy's "coffeehouse culture" to the United States and packaging it for mass consumption, this maverick marketer transformed a little-known four-store chain into an international behemoth.
By making Starbucks ubiquitous and creating what the company calls a "third place" between home and work, Schultz also helped change the way Americans socialize. The chain's white paper cups emblazoned with a green siren were once considered status symbols, as celebrities were photographed carrying them.
"It seems like yesterday that I first walked into the Pike Place store, stepped across the threshold, and was swept into a world of coffee and community. That moment began the journey of a lifetime," Schultz, 64 , wrote in a letter to employees Monday, referring to the chain's first Seattle store. Today, Starbucks has more than 28,000 stores in 77 countries worldwide.
Stepping down as chairman of Starbucks Corp., Schultz will leave the company at the end of the month and take on the honorary title of chairman emeritus, fueling speculation he may seek the Democratic presidential nomination in 2020.
Schultz told The New York Times he hadn't decided on his next move yet, but "for some time now, I have been deeply concerned about our country — the growing division at home and our standing in the world."
Schultz, who has been openly critical of President Donald Trump, said "one of the things I want to do in my next chapter is to figure out if there is a role I can play in giving back.
"I intend to think about a range of options, and that could include public service," he said, when asked if he was weighing a presidential run.
"But I'm a long way from making any decisions about the future. I want to be of service to our country, but that doesn't mean I need to run for public office to accomplish that," Schultz said.
Growing up in New York City housing projects, Schultz said he never dreamed of going into business.
The former chairman and CEO of Starbucks writes in his book "Pour Your Heart Into It" that he was raised in a working-class Jewish family in Canarsie, Brooklyn.
While his mother Elaine tended to him and his siblings full-time (she later became a receptionist), his father Fred held a series of blue-collar positions, including truck driver, factory worker, and cab driver.
In 1961, when Schultz was 7 years old, his father broke his ankle while working as a truck driver picking up and delivering diapers. At the time, Fred had no health insurance or worker's compensation, and the family was left with no income.
Today, Schultz writes, he still remembers the way his father looked laying on the couch with his leg in a cast. In a way, his tremendous professional success is a tribute to his father, who died years later and "never attained fulfillment and dignity from work he found meaningful."
Almost from the outset, Schultz's career path was different from his parents. In high school, he played football and earned an athletic scholarship to Northern Michigan University, becoming the first college graduate in his family.
After graduating with a bachelor's degree in business in 1975, Schultz immediately began working in the sales and marketing division of Xerox Corp. Schultz excelled at Xerox, so much so that he attracted the attention of the Swedish housewares company Perstorp AB, which recruited him at the age of 26 to be vice president and general manager of their American subsidiary, Hammerplast USA.
Despite his seeming success, Schultz writes that he was "getting antsy. It may be a weakness in me: I'm always wondering what I'll do next."
While at Hammerplast, Schultz noticed that a small Seattle company named Starbucks was buying an unusually high number of Hammerplast's espresso machines.
Intrigued, Schultz traveled to Seattle to meet the company's then owners, Gerald Baldwin and Gordon Bowker. He was struck by the partners' passion and their courage in selling a product that would appeal only to a small niche of gourmet coffee enthusiasts.
Joining Starbucks would mean moving across the country and taking a significant pay cut, but Schultz was certain it would be the right move for him. It took a year to persuade Baldwin to hire him as the director of marketing.
Schultz's career — and Starbucks's fate — changed forever when the company sent him to an international housewares show in Milan. While walking around the city, he encountered several espresso bars where owners knew their customers by name and served them drinks like cappuccinos and cafe lattes.
"It was like an epiphany," Schultz writes of the moment he understood the personal relationship that people could have to coffee. He was convinced that Starbucks should be an experience, and not just a store.
Baldwin and Bowker, however, felt differently. In 1985 Schultz decided to leave Starbucks to start his own coffee company: Il Giornale (Italian for "the daily").
In order to get Il Giornale off the ground, Schultz had to raise more than US$1.6 million. "In the course of the year I spent trying to raise money, I spoke to 242 people, and 217 of them said no. Try to imagine how disheartening it can be to hear that many times why your idea is not worth investing in. ... It was a very humbling time," he writes in his book.
He spent two years away from Starbucks, wholly focused on opening Il Giornale stores that replicated the coffee culture he'd seen in Italy. It caught on quickly. In 1987, Il Giornale bought Starbucks, and Schultz became CEO of Starbucks Corp.
In 1992 he took Starbucks public. The chain experienced rapid growth and became a Wall Street darling.
Schultz decided in 2000 to step down as CEO so he could focus on other interests such as buying the Seattle SuperSonics basketball team and signing musicians to Starbucks's record label.
But in 2007, Starbucks hit a bumpy patch, in part because of the economy and its own rapid growth.
In early 2008, he returned as CEO and made immediate changes, including slowing the chain's U.S. growth plans, retraining workers to greet customers more warmly and cutting back on projects such as movie promotions that detracted from the core coffee business.
Schultz also sought to keep the company on the leading edge of technology, making Starbucks one of the first food and drink retailers outside of pizza chains to develop a mobile app.
Schultz, who has a net worth of US$2.8 billion, according to Forbes, in some years made the company's annual meetings a spectacle, featuring celebrities such as Oprah Winfrey, k.d. Lang and Alicia Keys.
Although it's been years since he was a college football player, Schultz writes that he still identifies with the persona of the blue-collar athlete whose determination and perseverance more than compensate for his lack of training.
"I've always been driven and hungry," Schultz said. "Long after others have stopped to rest and recover, I'm still running, chasing after something nobody else could ever see."
Over the years, Schultz's identity and that of Starbucks became synonymous. He often referred to his humble roots as the reason he ran a public company with a very personal bent, taking a stand on issues ranging from same-sex marriage to gun control.
Largely because of his father's experience when he was injured, Schultz offered all his employees (including part-time workers) complete health-care coverage.
The company, he has often said, was about being performance-driven "through the lens of humanity."
In recent months, Starbucks has been at the center of a debate about race relations after a Philadelphia store manager called the police on two black men who didn't purchase anything and allegedly refused to leave when asked.
The company quickly denounced the manager's action and closed more than 8,000 U.S. stores for half a day to provide racial bias awareness training to around 175,000 employees.
Speaking to CNN about the closure, Schultz said "we realize that four hours of training is not going to solve racial inequity in America, "but we have to start the conversation."(SD-Agencies)