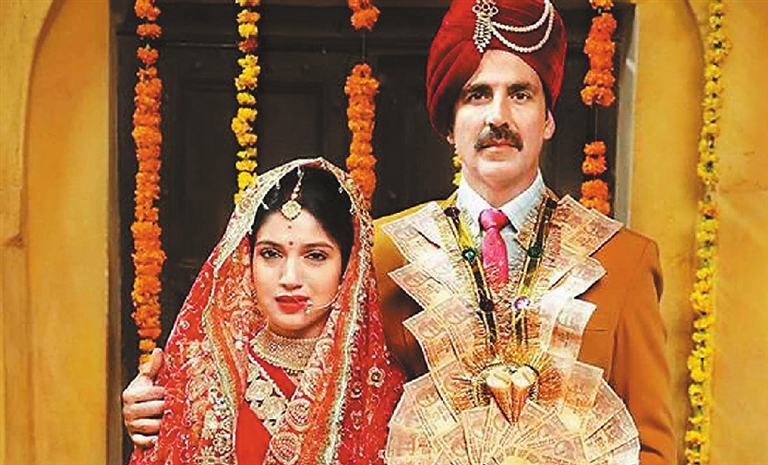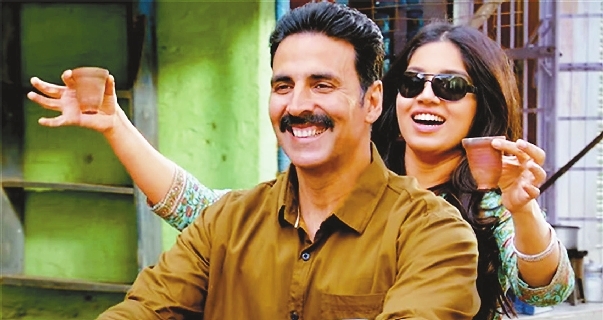 Starring: Akshay Kumar, Bhumi Pednekar, Anupam Kher, Sana Khan, Anupam Kher, Divyendu Sharma Director: Shree Narayan Singh
A NATIONAL headline-making local story is melded with the Prime Minister's pet project in this righteous, sermonizing Indian film about the need for constructed toilets. But that's not all the Akshay Kumar-Bhumi Pednekar film written by Sidhharth-Garima, based on a true story, decides to address.
In this rural canvas, the movie goes on to deliver lessons on a range of issues from superstitions and stalking to the importance of education for women and gender equality. "Toilet" is well-meaning, well-intentioned and all, but it just goes on and on. At 160 minutes, editor-director Shree Narayan Singh takes a circuitous route, stopping at all the services along the way, to get to the point — which is the making and use of toilets.
Keshav (Akshay Kumar) is 36 and unmarried. In order to realign his dodgy astrological charts, his priest father (Sudhir Pandey) first gets him married to a buffalo and then insists that whichever woman he marries must have an extra thumb (which, of course, leads to many Hrithik Roshan jokes).
But Keshav falls in love with Jaya, a topper from his college who comes from a forward-thinking family but has no extra digits. Rather than dismiss the stupidity of his demands, Jaya and Keshav scam the orthodox father into believing that she meets all his preconditions. Things seem to be working out for Keshav till Jaya discovers that all the women of the village collect pre-dawn to walk miles away into the fields to relieve themselves.
The theme lends itself perfectly to satire. A fairly emancipated small town woman leaves her husband and his small-minded, tied-to-tradition home because she is unprepared to answer nature's call in dark fields.
At first Keshav is unable to understand her stubborn stand, but by-and-by he comes around to her point of view and becomes the local crusader for the Swachh Bharat Abhiyan.
Keshav takes on the local panchayat, the corrupt government departments and even ends up in court. He eventually defies his father. "It's not a matter of sauch (toilet), but a matter of soch (thought)," says Keshav dramatically.
As he takes on archaic thoughts and unquestioned age-old traditions, a wise sympathizer offers: "Don't forget who the villain is — it's sabhyata (civilization, progress). Fighting that is much harder." There are many more such words of wisdom peppered throughout.
Finally, a convenient plot point and a badly acted scene by an injured grandmother (Shubha Khote) makes the priest father recognize his short-sightedness. Indeed the dynamics between the father and his two sons (Kumar and Divyendu Sharma, who plays the younger brother) are well formed and Kumar brings on his A Game.
Pednekar is passable in a character who is given short shrift. In spite of taking a strong stand, her actions thereafter are rather wishy-washy. Not only is Jaya's feminism rather infantile, but she's also about the problem and not the solution. That responsibility is placed squarely on Keshav who finds all kinds of innovative solutions, including stealing a portable toilet from a film set. But this wit is scant.
The movie is now being screened in Shenzhen. (SD-Agencies)