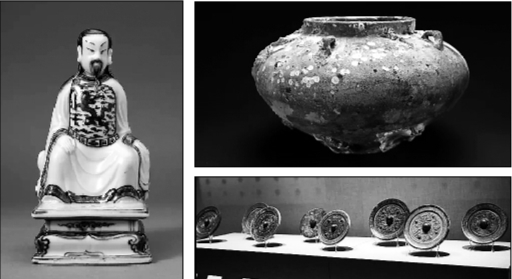 More than 500 cultural relics seized by Shenzhen Customs are on display at Nanshan Museum until July 8.
The items were selected from 1,802 pieces of Shenzhen Customs' confiscation. The pieces now have been collected by the museum. The exhibited items, mainly ancient coins and ceramics, range from the Shang Dynasty (1600-1046 B.C.) to the Qing Dynasty (1644-1911).
In the past five years, Shenzhen Customs has donated more than 50,000 seized relic items, such as stamps, books, coins, bronzeware, paintings, coins and porcelain, to local museums.
Meanwhile, ancient bronze mirrors, Buddha sculptures and ceramics collected by locals and private museums are also on display until July 29. The exhibited items can be dated back to the New Stone Age.
Two more exhibitions are being held at the museum until next year. One features ancient stone sculptures, foreign coins and Buddha statues from the Northern and Southern dynasties (420-589) to the Tang Dynasty (618-907). The other exhibition features ancient bronze weapon relics.
Venue: Nanshan Museum, 2093 Nanshan Boulevard, Nanshan District (南山区南山大道2093号南山博物馆)
Metro: Line 1 to Taoyuan Station (桃园站), Exit B
(Cao Zhen)