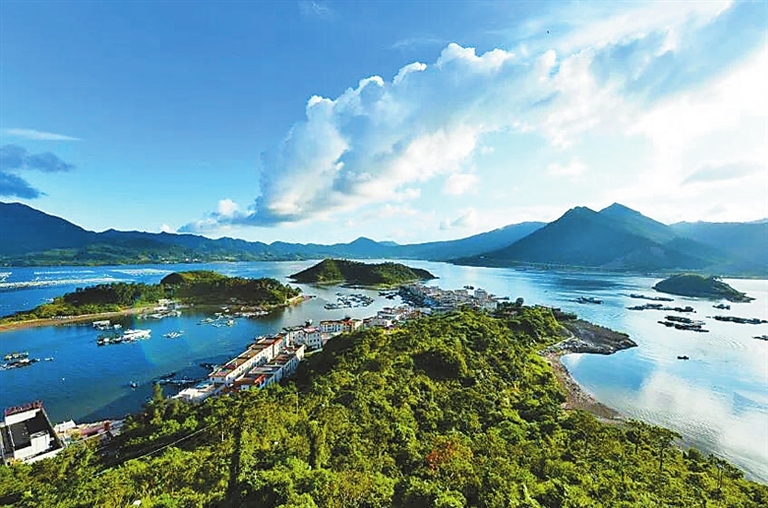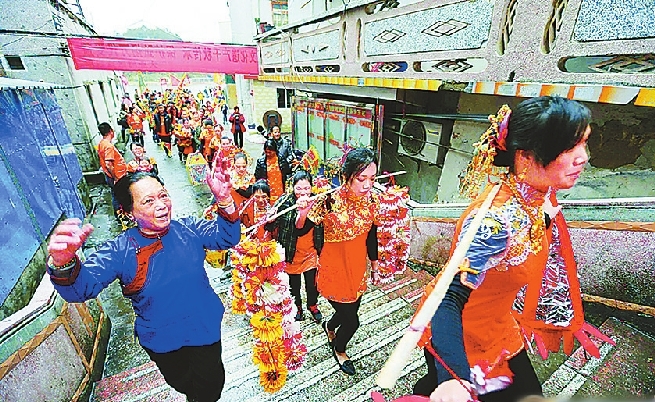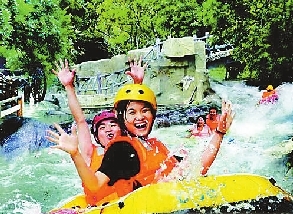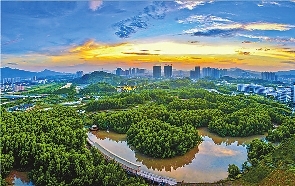 DAYA Bay, a State-level economic and technological development zone in Huizhou, not only boasts a world-level petrochemical industry base, but is also endowed with rich coastal tourism resources. As an important node of the Shenzhen-Dongguan-Huizhou Economic Circle, Huizhou is geologically close to Shenzhen and contains many tourist sites worth visiting.
Route 2:
Huicheng District — Dongsheng Fishing Village — Green Bay Rafting — Daya Bay Coastal Green Way — Mangrove Park — Xiaojing Eco Park — Xincun Village (惠城区 — 东升渔村 — 碧海湾漂流 — 大亚湾滨海绿道 — 红树林公园 — 小径生态园 — 新村民宿)
Dongsheng Fishing Village
Dongsheng Fishing Village is situated on an island, surrounded by the sea on all sides. Currently there are 900 residents from over 200 households living on the island. Throughout the years, the village has upheld its unique traditions such as the Dawangye Festival and their special marriage customs.
The island is fully covered by luxuriant vegetation throughout the year. When you ascend the island's highlands, you will see the sea water dotted by fishing boats almost merging with the sky in the distance with their similar colors.
Making use of the unique natural landscape and the local fishermen's customs, the residents here have developed an array of worthwhile tourism activities such as sea fishing, fishing on the island and marriage customs performances.
A vacation here would be teeming with fishing fun and exuberant sea food feasts.
Transport: Take a train from Shenzhen Railway Station to Huizhou Station, then take bus K2 to Aotou.
Green Bay Rafting
Summer is the time for water fun. Green Bay is the place closest to Huiyang for enjoying the excitement of rafting. The section for rafting, 3.8 kilometers in length, has preserved its primitive landscape.
On a rafting journey, thrill seekers will be able to experience over 100 falls of different heights and travel past valleys and forests. In addition to rafting, the natural landscape with primitive forest and clear water makes the place a nice option for relaxation.
The Green Bay tourist resort has different tourist programs on offer including team building, agritainment restaurants, cycling, water park and cabin rentals. For people who work in the steel-and-cement-made city most of the time, Green Bay serves as a nice getaway to nature.
Transport: Take Metro Line 9 to Yinhu Station, then take Dapeng Holiday Special Line 3 to Kuichong Zhongxin. Take bus Shenzhen-Huizhou Line 4 at Kuichong Coach Station to Xiaogui Village, then walk 600 meters to the destination.
Mangrove Park
Located in the central area of Daya Bay, the Daya Bay Mangrove National Wetland Park covers a total area of 1.12 square kilometers. The national 4A-rated tourist attraction is a genuine "natural oxygen bar."
According to official data, the concentration of negative oxygen ions in the wetland park reaches as high as over 12,000 per cubic centimeter, while in the city the number is as low as 50 to 200.
In the park you will encounter many mangrove plants, a large variety of precious animals and special aquatic plants. An exhibition with plant and animal photos and model birds and fish is now being held at the newly opened ecology exhibition hall.
Transport: Take Metro Line 3 to Shuanglong Station, then go to Shuanglong Metro Bus Station 2 and take bus Shenzhen-Huizhou Line 1 to Mangrove Park. Walk around 600 meters to the destination. (Chen Xiaochun)