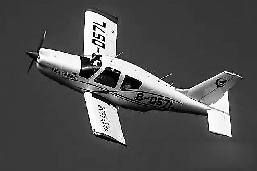 THE LE500, the first Chinese general plane model to enter the African market, has completed a successful first flight in South Africa, China's Aviation Industry Corp. (AVIC) said yesterday.
Two LE500 planes, dubbed Little Eagle 500 in Chinese, have successfully conducted their first flights at a pilot training school in South Africa, said the State-owned aviation giant.
They will soon enter the local general aviation market as the standard for pilot training and other general aviation missions. This is the first time that a Chinese-developed general aircraft model has entered the African market.
The LE500 is a four-to-five seat plane developed by the AVIC General Aircraft Co. It is China's first domestically developed light versatile aircraft to pass the CCAR Part-23 airworthiness test, a certified standard for small fixed-wing airplanes issued by Chinese civil aviation authorities.
The model is often used to train pilots, but can also be used for other general aviation activities such as aerial photography, sightseeing, tourism and air patrol.
To date, more than 80 LE500 planes have been delivered to domestic and overseas markets.  (Xinhua)