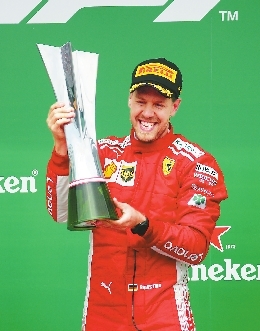 SEBASTIAN VETTEL led from the pole to the checkered flag — and then some — to claim a long-awaited Ferrari victory at the Canadian Grand Prix.
The four-time world champion sped on after the checkered flag was waved one lap too early, finishing his wire-to-wire victory at the Circuit Gilles Villeneuve on Sunday to claim his third win of the year and the lead in the Formula One standings.
"I was a bit confused. I told them I don't think the race is over yet," said Vettel, who confirmed on the counter in his car and with his team that he was only completing his 69th of the scheduled 70 laps.
"Some of the marshals were already celebrating," he said. "I was just worried that people don't jump on the track and start celebrating. We're still going at full pace."
Canadian model Winnie Harlow blamed race officials for telling her the wrong time to wave the flag. Formula One regulations say that if a checkered flag is waved too early, the race is over as of the last completed lap, making the results official as through 68 laps.
F1 spokesman Matteo Bonciani said there was confusion getting the message from a course official to Harlow on the platform.
"WHEN THEY TELL YOU TO WAVE THE FLAG A LAP TOO EARLY!" Harlow wrote on Instagram. "You had one job sir!!! Hahaha but so grateful everyone was safe today and no one got hurt!"
Had any passing occurred on the 69th or 70th laps, it would not have counted, Bonciani said. But there was not, and Vettel picked up the 50th win of his career, his second in Montreal and the first for Ferrari at the track since Michael Schumacher won three in a row from 2002-04.
Mercedes was second with Valtteri Bottas — not erstwhile championship leader Lewis Hamilton — about six seconds back after never really challenging for the win. Max Verstappen was third and the other Red Bull car, driven by Daniel Ricciardo, was fourth. (SD-Agencies)