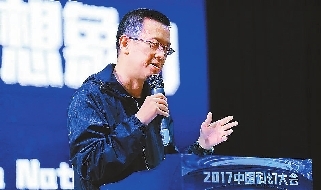 HAN SONG'S sci-fi novel "Exorcism" won the 2018 Gravity Award for best novel at the First Asia-Pacific Science Fiction Convention held in early June.
The two-day convention, organized by Future Affairs Administration and Global Innovators Conference, featured 100 sci-fi writers, scholars and filmmakers from 10 countries, including Canada, the United States, South Korea, Egypt, Russia and India.
Three scientists including Yin Juan, a specialist in quantum entanglement and quantum communication, from the University of Science and Technology of China; Guo Jianhua, associate chief designer of the dark matter particle explorer Wukong; and Tian Ye from the Shanghai Institute of Optics and Fine Mechanics, China Academy of Sciences, won the Golden Age Award for research.
Other winners at the convention were Han's "Overture to the Spring Festival" and Zhou Wen's "The Silent Syllable" for best short story and Chen Qiufan's "Reunion of Monster Classmates" for best novella. (SD-Agencies)