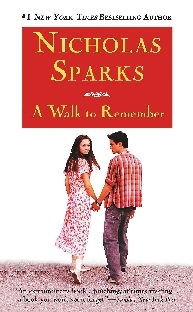 《初恋的回忆》
Fifty-seven-year-old Landon Carter narrates the novel, reflecting on* events from 40 years in the past. The novel opens with a prologue, in which the older Landon, living in the same North Carolina town as he did at the age of 17, stands near the Baptist church that figures prominently* in the novel and gets himself in the mindset of his 17-year-old self. The story begins in 1958 and is, Landon tells us, both joyful and sad.
This novel is a bit of twisted take on your average romance novel. Instead of the good girl falling for the bad boy, it's more of the other way round. Carter, your average high school ruffian, is not in the slightest the kind of boy you would expect to like Jamie Sullivan, the quiet girl who always carries around a Bible with her school books. Nevertheless, destiny* has a habit of bringing people who are secretly perfect for each other together.
The book was written from Carter's perspective. The way that Nicholas Sparks has portrayed Landon through the first person narrative allows the reader to see how Carter really feels rather than the way he acts outwardly.
Sullivan is a lovely character, the kind of person you'd want to have as a best friend, and by the end of the novel, Carter is the perfect gentleman.
This 1999 romantic novel was adapted into a film in 2002. The book is available at online bookstores like jd.com.(SD-Agencies)