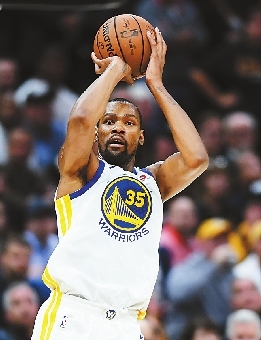 KEVIN DURANT said earlier this month he wants to stay with the Warriors, and Golden State will do everything it can to make that happen.
Warriors general manager Bob Myers told reporters Monday that Durant can sign whatever contract he wants.
"I'd love to have him for 10 years," Myers said. "Look what he did for us last year. He did us a great service. So, he's earned the right to sign whatever deal he wants. I just want him to sign a deal. Want him to be happy and want him to know we want him as long as he wants to be here."
Durant signed a two-year, US$51.25 million contract with the Warriors in July 2016. The Warriors won back-to-back championships and Durant earned two straight Finals MVP awards during that contract.
Durant reportedly declined his player option for 2018-19 in mid-April and he will become an unrestricted free agent this summer. But, Durant told ESPN during the NBA Finals he plans to re-sign with the Warriors.
Durant told ESPN's Chris Haynes on Friday that he could see himself retiring at age 35.
"This game, your craft, you have to continue studying it," Durant said. "No matter how much you enjoy it, nobody wants to be in school that long. I know I don't. At some point, you have to be ready to graduate. Thirty-five, that's just a number in my mind."
Both Durant and Haynes' conversation consisted of Durant's standing among the all-time NBA points leaders (20,913 — good for 41st all-time and 18,000 points behind Kareem Abdul-Jabbar). The two touched on Durant's place in NBA history as well.
When the topic arose, the 29-year-old Durant said he is fine to walk away on his own terms.
"That's how I want to leave the game," Durant said. "And if I happen to have all these accolades and these accomplishments, then that's cool. If not, I'm still cool."
Rich Kleiman, Durant's business partner, told Haynes that Durant had once shared with him his desire to retire at age 35. Kleiman said he'll "believe it when it happens."(SD-Agencies)