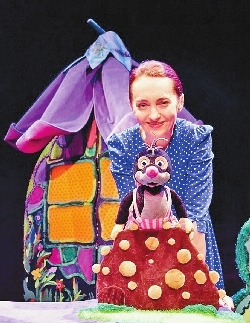 Puppet Theater Koekla from the Netherlands will present "Little Mole Bim" at Huaxia Art Center on Sunday.
Little mole Bim is a bright, cheerful, neighborly rodent. He lives underground below a garden, where a cat lives. One day, a baby bird flits down into the garden in search of its mother. The mean cat catches the nestling, but Bim is able to rescue the nestling before it's devoured and take it to Doctor Dog. After all they've been through, will they find the baby bird's mother?
"Koekla" is the Russian word for puppet. Puppet Theater Koekla was founded by Christina Boukova and Gilian Dierdorp. Christina is originally from Ukraine and settled down in the Netherlands 20 years ago. In her homeland, puppetry is a flourishing form of art.
Dierdorp is from Amsterdam and is skilled in working with a wide variety of materials. In addition to building sets and props, he's also the sounds and lights engineer during performances.
Koekla has earned itself a unique place in the Netherlands. In the past 15 years, they've been constantly on the lookout for new methods and possibilities in puppetry. They've performed in theaters, schools, communities, churches and numerous other special locations. So far they've performed at festivals in China, India, Romania, Ireland and Bulgaria.
Time: 10:30 a.m., 4 p.m., June 17
Tickets: 130-180 yuan
Venue: Huaxia Art Center, 1 Guangqiao Street, Overseas Chinese Town, Nanshan District (南山区华侨城光侨街1号华夏艺术中心)
Metro: Line 1 to OCT Station (华侨城站), Exit B
(SD News)