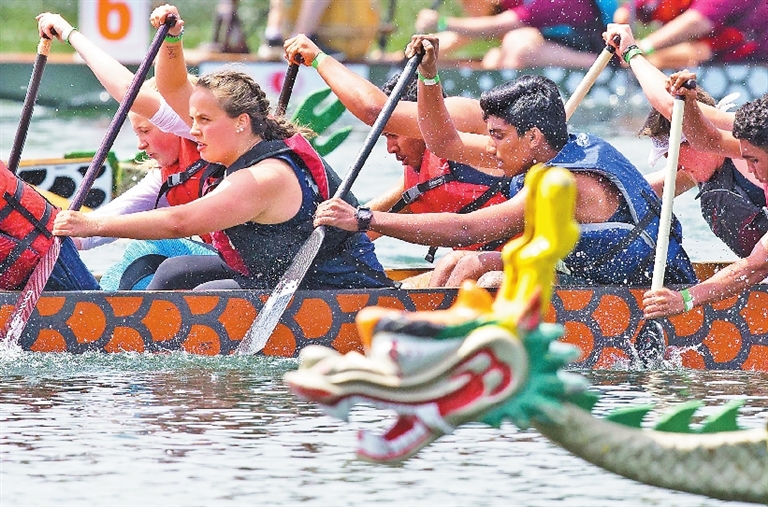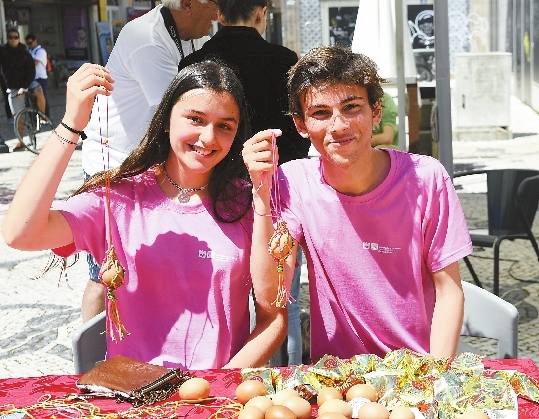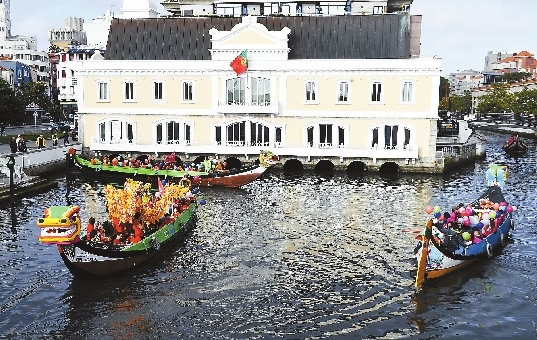 HAND-WRAPPING rice dumplings, rowing dragon boat paddles, reciting ancient romantic poems ... many New Yorkers marked the Dragon Boat Festival, a traditional Chinese holiday that commemorates the death of ancient patriotic poet Qu Yuan, with fervor and color over the weekend.
Jasmine, a famed Chinese restaurant in downtown Manhattan, turned itself into a workshop for learning how to make zongzi Saturday and Sunday, for people from across the New York City, home to by far the biggest Chinese-American population of any city proper in the U.S.
It was the restaurant's second consecutive year to host such an event.
Zongzi — pyramid-shaped dumplings made of glutinous rice wrapped in bamboo or reed leaves — is a centerpiece of the Dragon Boat Festival, or Duanwu Festival, which falls on the fifth day of the fifth lunar month (June 18 this year).
"I get to see glimpses of Chinese culture through my Chinese friends," said Thomas Hasler, an Austrian who came with his Chinese friend Hanming Zeng. "I eat out a lot at Chinese restaurants, but being able to make something has been so much more fun. I enjoy this so much."
Anirudh Singh, another participant, was able to recount the origin of the Dragon Boat Festival. "The fishermen threw rice in the river to make sure the fish didn't eat Qu Yuan's body, right?" he said. "I learnt all about it before I came here."
Singh was quite right. The festival began in China's Spring and Autumn (770-476 B.C.) and Warring States periods (475-221 B.C.). Qu Yuan was a minister of Chu, located in the Yangzi River area of Central China.
In 340 B.C., Qu was facing the pain of losing his homeland. Later he drowned himself in the Miluo River on May 5. The people of Chu were very sad.
To prevent fish from eating his body, the locals wrapped leaves around rice and put them into the river while beating their drums and splashed their paddles on boats.
Jasmine's event also featured a recitation of an extract of Qu's famous poem "Li Sao," or "The Sorrow of Parting," by a guest from the New York Hanfu Corp. in traditional Chinese costume.
The great poet might never have imagined that his death would inspire a much-loved sport, not only in China, but also all across the world including the U.S. cities such as New York City, San Francisco, Kansas City and Boston.
Interestingly, dragon boat racing has grown beyond the Dragon Boat Festival's official holiday celebration on the fifth day of the fifth lunar month every year in America over the past decade. The old-fashioned dragon-headed boat and drum are still kept for carrying the Chinese tradition, and the rules set by the International Dragon Boat Federation are abided.
The 28th annual Hong Kong Dragon Boat Festival in New York is scheduled for Aug. 11-12, and over 200 well-trained teams will paddle across Meadow Lake at Corona Park in the city's borough of Queens.
Anthony Demmasi with the UPS team said they were inspired to participate in dragon boat racing by a YouTube video fours years ago.
"It's pretty cool. you learn how to better pace yourself, learn the techniques, learn how to train each other, train new people that are coming in. Mainly because we got to keep on learning, we got to keep on showing new people the experience, And it's a lot of fun," Demmasi said.
Dragon boat racing, now the largest summer activity in New York City, has injected lots of new life into Corona Park, home to the 1962 World's Fair where exhibitors worldwide showcased their inventions and culture.
Celebrations in Uganda
Thousands of miles away from China, the peoples of China and Uganda jointly celebrated the festival in Uganda on Saturday.
The event, hosted by the Chinese People's Association for Friendship with Foreign Countries and the China Africa Friendship Association of Uganda, was held in Entebbe city, 40 kilometers south of the capital Kampala.
There was fanfare, barbecues and live music on the shores of Lake Victoria as different teams composed of Chinese and Ugandans were racing on the water in the second edition of the Dragon Boat Festival in Uganda.
The athletes were paddling their hardest following the rhythm of the drummer as the crowd cheered on.
Revelers feasted on Chinese and Ugandan dishes on the shore. Dumplings and other Chinese dishes were a highlight. Cultural games including a kite show, tug rope and acrobatic displays among others were also a highlight at the event.
Muhamud Nsamu, a 24-year-old law student, is an initial member of a dragon boat team which participated in Saturday's competition. He syas he helped found the team "because it [dragon boat racing] is a good sport that is going to bring Chinese culture to us."
The dragon boat race promotes the relationship between Ugandans and Chinese, as a large number of Chinese and Ugandans are meeting here, he said.
"We want to promote friendship with Chinese people here and we are seeking it," said Ivan Wankayi, the leader of a participating team consisting of 24 fishermen.
At a Chinese food stall set up on the shore, Zhang Xiaofeng from Central China's Jiangxi Province was passing a basket of dim sum to a customer.
"The Dragon Boat Festival is a traditional festival of China. It was not celebrated in Uganda, but now Ugandans are joining Chinese to celebrate it," Zhang said, adding that this kind of activity helps enhance mutual understanding between the two peoples.
Aveiro revels
Residents in Portugal's northern city of Aveiro on Saturday enjoyed a series of activities marking the Dragon Boat Festival.
The celebrations, co-hosted by the Confucius Institute at the University of Aveiro and Aveiro Municipal Hall, featured a folk art display, Chinese calligraphy, tea art, a dragon dance, martial arts, and a small workshop teaching people how to make zongzi.
A star attraction of the activities was a dragon boat sailing event, in which nine teams of Chinese learners in Aveiro and nearby cities participated.
As the dragon boat sailed along a canal through downtown Aveiro, local residents lined up on both banks and watched with excitement.
Catarina Barreto, an Aveiro city official, said that the activities have brought together the traditional cultures of both Portugal and China and provided local people with a good opportunity to learn more about Chinese culture.  (Xinhua)