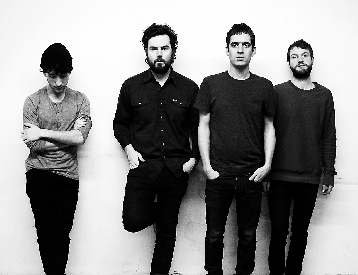 Suuns
Suuns is a Canadian rock band from Montreal. It was formed in the summer of 2007 when vocalist/guitarist Ben Shemie and guitarist/bassist Joe Yarmush got together to make some beats which quickly evolved into a few songs. The duo was soon joined by drummer Liam O'Neill and bassist/keyboardist Max Henry to complete the lineup. The band signed to Secretly Canadian in 2010.
Time: 8:30-10 p.m., June 21
Tickets: 147 yuan
Hiperson
Hiperson is a five-member rock band from Chengdu. Unlike previous generations of Chinese musicians, these 20-somethings reject the shackles of recent history, harkening back to the essential, sensitive, poetic golden age of rock. Their temperament of refreshing simplicity has led Hiperson on a path of rapid achievement. Frontwoman Chen Sijiang's unique voice, brilliant and gorgeous as it is, does not draw the audience's full attention away from Hiperson's compelling bass-lines or the complex, precise rhythmic interplay between drums and guitar.
Time: 8:30-10 p.m., June 22
Tickets: 80 yuan
Tenniscoats
Tenniscoats is a Japanese band with two members, Saya and Takashi Ueno, and they are often accompanied by guest musicians. Their music has been classified as avant-garde, folk, psychedelic and indie. Saya herself has been known to label their sound "avant pop."
Time: 8:30-10 p.m., June 23
Tickets: 120 yuan
Loop Pool
Loop Pool is a Japanese instrumental trio of electronica and jazz music.
Time: 8:30-10 p.m., June 24
Tickets: 80 yuan
Booking: b10live.taobao.com
Venue: B10 Live, North Area, OCT-LOFT, Nanshan District (南山区华侨城创意文化园北区B10现场)
Metro: Line 2 to Qiaocheng North Station (侨城北站), Exit B(SD News)