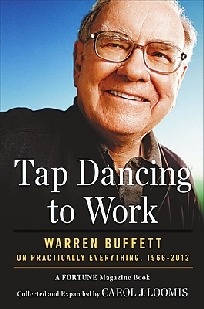 《跳着踢踏舞去上班: 听沃伦·巴菲特纵论天下, 1966-2012》
When Carol Loomis first mentioned a little-known Omaha hedge fund manager in a 1966 Fortune article, she didn't dream that Warren Buffett would one day be considered the world's greatest investor — nor that she and Buffett would quickly become close friends. As Buffett's fortune and reputation grew over time, Loomis used her unique insight into Buffett's thinking to chronicle* his work for Fortune, writing and proposing scores of stories that tracked his many accomplishments — and also his occasional mistakes.
Loomis has collected and updated the best Buffett articles Fortune published between 1966 and 2012, including 13 cover stories and a dozen pieces authored by Buffett himself. Loomis has provided commentary* about each major article that supplies context and her own informed point of view. Readers will gain fresh insights into Buffett's investment strategies and his thinking on management, philanthropy*, public policy and even parenting.
This is Buffett in his own words. It details his thinking mostly through his legendary annual letters to Berkshire stockholders.
Buffett's key to investing in a business is simple and clear: The business must be simple and clear, it must be managed by trustworthy people who have been in place for a while, and it must be underpriced for its market position.(SD-Agencies)