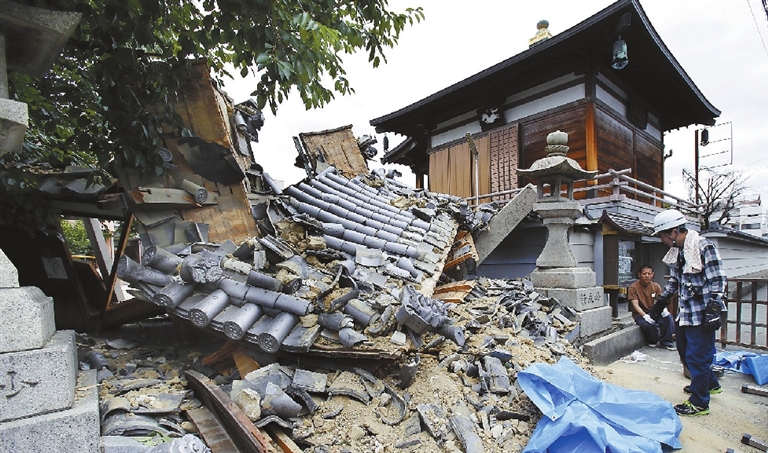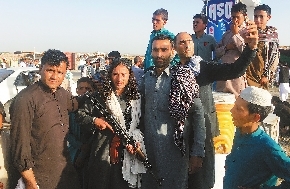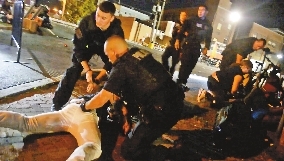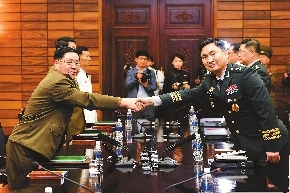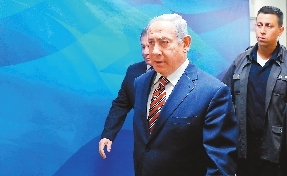 Strong tremor shakes Osaka, killing at least 3
Damage at Myotoku-ji temple caused by an earthquake is seen in Ibaraki, Osaka prefecture, western Japan, on Monday. The 5.3 magnitude quake knocked over walls and set off scattered fires around metropolitan Osaka on Monday, killing at least three people and injuring more than 300.
SD-Agencies
Taliban reject Afghan govt. cease-fire extension
After two days of rising hopes across the country, Taliban leaders on Sunday brusquely* rejected the government's proposal to extend a three-day cease-fire and said they were ordering all insurgent* fighters to resume operations against "the foreign invaders and their internal supporters."
The insurgents' terse* announcement came as thousands of Taliban fighters continued swarming into cities and towns to celebrate the three-day Eid holiday*, mingling cordially* with civilians, hugging policemen and posing for selfies. Many remained armed, however.
Gang shootout at US arts festival kills 1, injures 22
A suspected gunman was shot dead and 22 people were injured on Sunday after a dispute among rival gangs erupted into gunfire at an all-night arts festival in Trenton, New Jersey, U.S. officials said.
One of the shooting victims was a 13-year-old boy who was in extremely critical condition, Mercer County Prosecutor Angelo Onofri said. Three others were in critical condition. At least two people opened fire around 2:45 a.m. at the annual Art All Night event.
General-level talks between S. Korea, DPRK start
South Korea and the Democratic People's Republic of Korea (DPRK) on Thursday started general-level military talks at the border village of Panmunjom to ease military tensions, according to local media reports.
The inter-Korean dialogue between general-level military officers, the first of its kind in over 10 years, kicked off at 10 a.m. in Tongilgak, a DPRK building inside the Panmunjom that straddles the divided Koreas. The last general-grade military dialogue between the two sides was held in December 2007.
Netanyahu questioned by Israeli police
Israeli police questioned Prime Minister Benjamin Netanyahu last week over his alleged dealings with the country's largest telecom company, Israel Radio said, one of three corruption cases weighing on his political future.
A vehicle carrying police officers pulled up at the entrance of the prime minister's official residence, where a clutch of protesters called for Netanyahu to resign over the investigations. Police declined immediate comment.
Australia to make national apology to abuse victims
Australian Prime Minister Malcolm Turnbull will deliver a national apology to child sex abuse victims as part of the government's response to a long-running inquiry that heard allegations* against government and private institutions and prominent individuals in five years of hearings.
The apology to be delivered on October 22 was announced last week. (SD-Agencies)