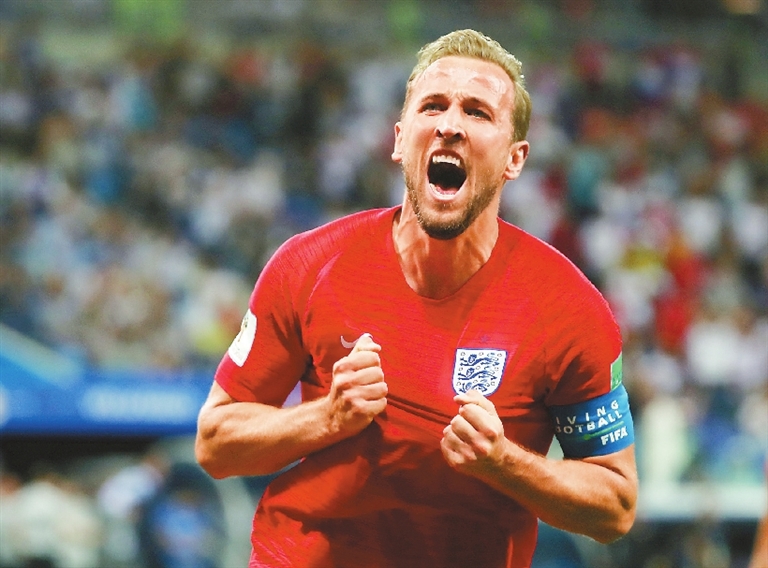 TWICE wrestled to the ground during the match, England captain Harry Kane finally evaded the Tunisian defense just as time was running out.
Kane found an open area of space at the far post and used his head to meet Harry Maguire's flick-on, scoring the winning goal Monday in a 2-1 victory at the World Cup.
It was relief for Kane and Gareth Southgate, who leapt into the air in delight as his World Cup debut as a coach got off to a winning start.
England shouldn't have found it so tough in its Group G opener against such opposition. Not after Kane got England off to a perfect start with an 11th-minute tap in. But after Kyle Walker softly conceded a penalty that Ferjani Sassi converted in the 35th, many of the fouls went against England.
"Maybe there was a bit of justice at the end," Kane said.
Finally, Kane showcased on the international stage the predatory instinct in front of goal that has served Tottenham so well. Only two years ago, the striker failed to find the net at the 2016 European Championship, which ended in humiliation with a loss to Iceland in the last 16.
The team has been transformed by Southgate since then. For all the placidness and togetherness within the group, Southgate has added persistence and doggedness.
"It shows the work we have put in these last few weeks," Walker said. "Togetherness and believing in ourselves."
At the last World Cup, England couldn't even win a game. Low expectations for this year's overhauled team were dispelled early in Russia when Kane reacted quickly to score after John Stones' header was saved. But England struggled to finish it off.
When Walker's flailing arm caught Fakhreddine Ben Youssef, a penalty was awarded and Sassi slotted it in to equalize.
England's players later thought they deserved the same verdict when Kane was grappled to the ground twice by Tunisians on either side of the halftime break. Both times, the referee decided against punishing the culprits.
Despite it all, Kane remained patient and delivered in the first minute of stoppage time.
"You go until the last second," Kane said, "and I'm absolutely buzzing."
England seemed destined for a familiar hard-luck story — dominance with little to show for it.
Before Kane's opener, Jesse Lingard had a shot saved on the line before setting up Raheem Sterling, who fluffed his chance while staring at an unprotected part of the net.
Chances to regain the advantage were squandered.
When Dele Alli's header was turned onto the crossbar, Stones messed up the follow-up.
Lingard later hit the post after breaking past goalkeeper Farouk Ben Mustapha.
(SD-Agencies)