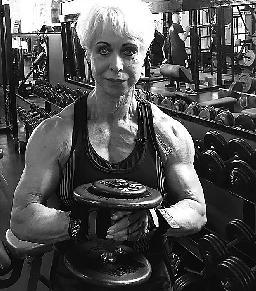 A BODYBUILDING grandmother who can lift her own body weight revealed she is chatted up online by "weedy men" who think she is a "goddess."
Angela Graham, 68, of Leeds, worked as a glamour model and Armed Forces pin-up before discovering weight-lifting in the 1970s.
The mental health nurse, who is grandmother to Aaron, 28, and Reece, 26, still goes to the gym every day and claims her youthful appearance means she is often mistaken for being in her early 50s.
While she believes many men don't approach her because she is too "physically intimidating," there are others who are attracted to her strong appearance.
Angela said, "I tend to find that the guys who are attracted to me, who follow me on Facebook, are the ones that want dominating.
"Silly little weedy men asking me, "Could you lift me?", "Could you pin me down?", "Would you wrestle me?", "What do your biceps measure?"'
"I think they've got some kind of personality problem, but I'm always polite, because I work in mental health and know there are a lot of people who live miserable existences and are not very well.
"I think they look at me and see me as a goddess. And a kind word from me, if it makes their day, means I've achieved something."
Angela had a hip replacement last year because of arthritis and has had carpal tunnel surgery on both hands.
However, she does not let that slow her down and continues to push herself at the gym, where she can lift 65 kg.
She regularly posts about her workouts on Facebook, where she boasts more than 5,000 followers. But she admits she is rarely approached by men when she is out.
She said, "I think men are strange creatures. Men stare, but I'm very seldom asked out, because I think, fundamentally, they find my physique intimidating.
"I once asked some guys at the gym, just as a matter of curiosity, whether, if they saw me in a nightclub, they would come up and ask me out. They said, 'Hell no!' Because you look intimidating and you're very confident."
Angela discovered the joys of working out in the mid-1970s, as women's bodybuilding was beginning to take off.
Up until then she had enjoyed a successful career as a glamour model, once featuring topless in a daily newspaper, as well as being a forces pin-up for various military regiments, a role that involved inspecting the troops wearing nothing but a bikini.
"Until the 1970s, I'd never been in a gym," she said. "People just didn't go to gyms in those days.
"But I was with a guy who started taking me. He used to buy a magazine called Muscle and Fitness and they did a feature on Lisa Lyon, an upcoming American bodybuilder.
"I looked at the picture and said, 'I want to look like her.' He said, 'You're dreaming. You haven't got the commitment or the motivation or the discipline' — and that was all the motivation I needed."
Soon a fully-fledged gym bunny, she spent hours honing her body until, two years later, her muscles were impressive enough for her to begin competing.
And by the mid-1980s, she had won numerous competitions — at one point having seven titles, including British champion, to her name.
Sadly, her modelling became a casualty of her changing body shape, as people were not used to seeing muscular women and she recalled men, in particular, saying she looked like a man.
Luckily, these days, Angela is more likely to receive compliments than insults.
She continued, "I was crossing the road a few days ago and a woman stopped me and said, 'I hope you don't think me rude, but your body is absolutely amazing.' And I said, 'No, that's made my day!'" (SD-Agencies)