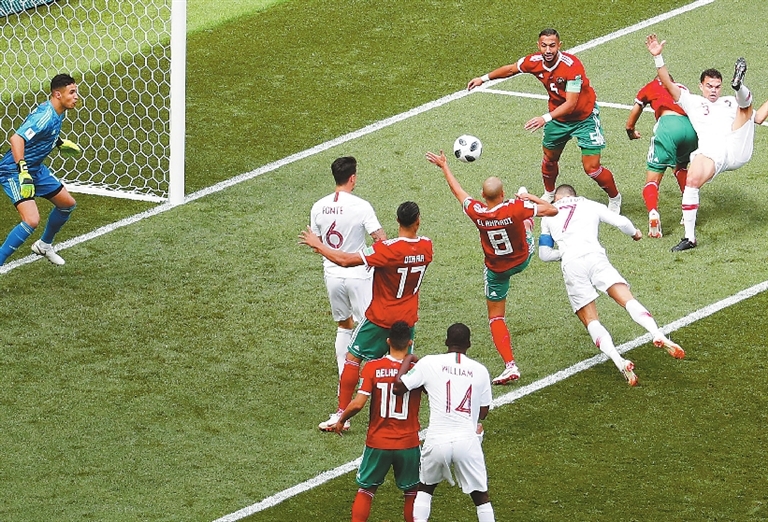 CRISTIANO RONALDO sent Portugal more than halfway to the 2018 World Cup knockout stages in Moscow on Wednesday with a 4th-minute header that the Moroccans, despite over an hour of superiority, couldn't match.
It was Ronaldo's fourth goal of the tournament, and the only one of a 1-0 Portugal victory that eliminated the Atlas Lions, and sent the Portuguese to the top of Group B.
But the 86 minutes that followed left many wondering how on earth it was the lone tally. Because Morocco, the first team to crash out of the tournament, did more than enough to deserve better.
Very few players, if any, in the history of soccer have been as good in the penalty box as 33-year-old Ronaldo is.
Ronaldo turned his marker, Manuel Da Costa, inside-out on an early Portuguese corner. He darted toward the cross from the right, then stuck his foot in the ground and faded back toward the middle to shed Da Costa.
It looked like an embarrassing defensive breakdown. It was more so a failure to account for Ronaldo's excellence. Morocco left Da Costa one-on-one with the Portuguese superstar. Ronaldo did what Ronaldo does against overmatched defenders. And he changed the shape of the game.
The goal didn't alter Morocco's plans. The North Africans were always going to try to take the game to Portugal. Over the next half-hour and beyond, they did just that.
But with a 1-0 lead, Morocco had to take the game to Portugal. There's a difference. The Portuguese had no need to take the initiative. They could sit back and play on the counter. Both Ronaldo and Goncalo Guedes spurned chances to make it 2-0.
But for the most part, Morocco was the much better team. It pressed harder and higher than any other at the World Cup thus far. It swarmed to the ball, and more often than not won it. It played extremely physical, but not to disrupt the game; rather, because it pursued Portuguese midfielders ferociously and aggressively.
Morocco's biggest problem, as was the case in a 1-0 loss to Iran, was its lack of a competent striker. It dominated the game between the penalty boxes, but spent much of it unable to create any clear-cut chances from open play. Its best opportunities were set plays and penalty appeals. Da Costa and Younes Belhanda tested Rui Patricio with headers. Numerous other attacking free kicks were wasted.
(SD-Agencies)