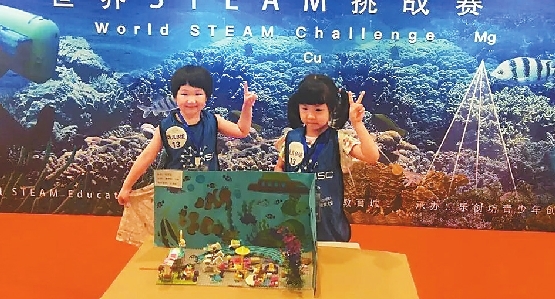 To inspire children to pursue studies in STEAM (science, technology, engineering, art and mathematics), Xinqiao Culture and Art Center will collaborate with the World STEAM Education Union to host the Shenzhen regionals of the World STEAM Challenge (WSC) in July.
The theme of the contest is "Life Below Water," one of the 17 Sustainable Development Goals set by the United Nations in 2015. The goals cover social and economic development issues including poverty, hunger, health, education, climate change, gender equality, water, sanitation, energy, urbanization, environment and social justice.
The targets of "Life Below Water" include preventing and reducing marine pollution and acidification, protecting marine and coastal ecosystems, and regulating fishing. The targets also call for an increase in scientific knowledge of the oceans.
Children aged between 4 and 9 can form a group of two with a teacher as the instructor to participate in the competition. They should present their ideas of building a smart city of clean water by making models or drawing plans at the competition.
Winners will have a chance to attend the China final in Beijing or the world final in Singapore.
Application: Until June 30
Fee: 298 yuan per person
Competition: 8 a.m.-6 p.m., July 14
Inquiries: 182-1136-2762, 134-1195-2059 or WeChat "aikao18938652074"
Venue: Xinqiao Culture and Art Center, 29 Gongyuan Road North, Bao'an District (宝安区公园北路29号新桥文化艺术中心)
Metro: Line 11 to Shajing Station (沙井站), Exit C(Cao Zhen)