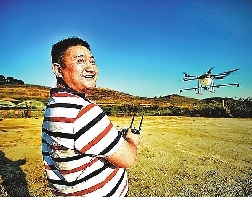 AN entrepreneur based in Bao'an District has brought convenience to numerous farmers with the agricultural drones he manufactures, Bao'an Daily reported.
Meng Lin is chairman of the board of Shenzhen Fengnongyuan Technology Co. Ltd., a company focusing on using technology to achieve agricultural automation. Before setting up the company, Meng worked in the photoelectric industry for over a decade.
In 2002, Meng moved to Shenzhen and started as an apprentice at a small company in Shajing. However, the young and ambitious man was not satisfied with his first job and dreamed about working at an American-invested photoelectric company in Bao'an.
For years, he waited for the U.S. company to recruit and was eventually employed after his excellent performance at the job interview.
While working at the company, Meng maintained his diligence and his efforts paid off with a few promotions until reaching the post of vice general manager.
Meng decided to pursue a bigger goal of starting his own company in 2012. In the beginning, Meng chose to set up a photoelectric company, but gradually found that his company could hardly survive in the competitive market.
After observation and research, Meng found that agriculture might be a field that he could dive into.
"I think agriculture industries are very promising because more and more farmers in China are turning to agricultural automation," said Meng. Once a farmer himself, Meng realizes that technology can bring more convenience and benefits to farmers by lowering costs and increasing efficiency.
"A friend told me that manual pesticide-spray can lead to food safety problems if farmers are not skillful in spraying the pesticide, so I thought of using drones to spray pesticides," said Meng. Since then, Meng has carried out researches and studies on the production of drones.
Meng chose his hometown as the first venue for testing out the agricultural drone he had developed, and the trial took a whole year before the drone was upgraded. It was then that Meng returned to Bao'an and set up his agricultural technology company to focus on developing, producing and selling agricultural drones.
The products developed by Meng's company are now popular all across the country and have even been sold to other countries including South Korea and Thailand.
"A good life only comes from hard work," Meng said, adding that he will continue to develop technologies that can bring more benefits to farmers.
(Cindy Zhang)