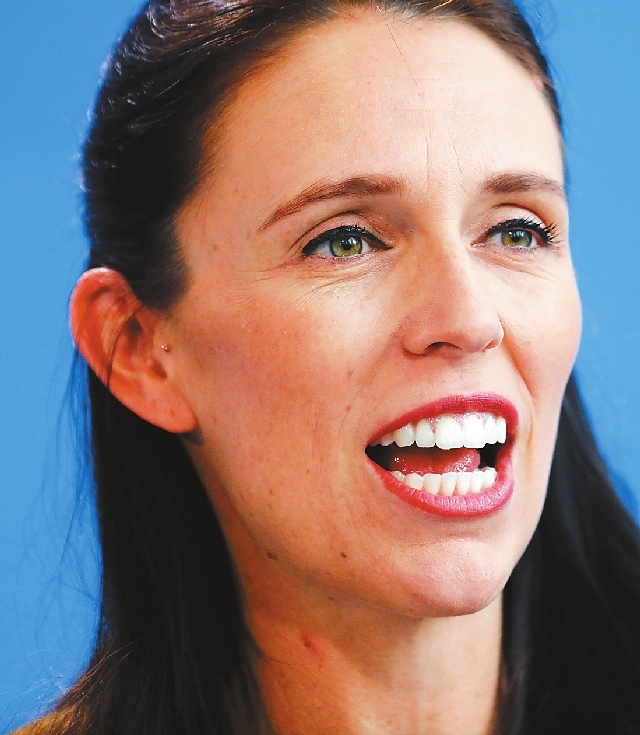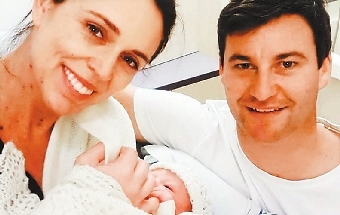 JACINDA ARDERN, the prime minister of New Zealand whose youth and surprise rise to power have made her a global celebrity, gave birth to a baby girl Thursday, the first world leader in nearly 30 years to have a child while in office.
In a post on her official Instagram account, Ardern, 37, said the baby arrived at 4:45 p.m. local time (12:45 p.m. Beijing time), weight 3.31 kilograms.
"Thank you so much for your best wishes and your kindness. We're all doing really well thanks to the wonderful team at Auckland City Hospital," she said in her post.
She was admitted to the hospital earlier in the day, and excitement and anticipation had been building over the last few days, with many media outlets setting up live blogs to track the latest developments.
Ardern's pregnancy has been followed around the world, with many hoping the prime minister will become a role model for combining motherhood with political leadership.
The last elected leader to give birth while holding office was the late Benazir Bhutto, who was prime minister of Pakistan when she gave birth to daughter Bakhtawar in 1990.
Before her election last year, Ardern told an interviewer that it was "unacceptable" to quiz women about whether they intended to have children.
When she announced her pregnancy in January, Ardern said she would not be "the first woman to multitask," nor the first "to work and have a baby."
Ardern said she learned of her pregnancy in mid-October. As the New Zealand Herald reported, "A baby due in June indicates she became pregnant in September — during the election campaign."
When questioned by reporters earlier this year, Ardern said while she didn't underestimate the challenge of raising a child and running a country, she had a "lot of support" around her.
"And I would say to those people, none of them detected I had pretty bad morning sickness for three months of establishing the government," she said.
The news came as a surprise, she said, as the couple had always hoped to have a child, "but we had been told we would need help for that to happen."
"We wanted a family but weren't sure it would happen for us, which has made this news unexpected but exciting," she said.
Ardern was given a due date of June 17. On the advice of her doctors, she has remained in Auckland, New Zealand's largest city, since June 11. She has been working from home since then, instead of from her offices at parliament in Wellington, the capital.
"I don't want to ever give the impression that I'm some kind of wonder woman," said Ardern, an unpretentious wunderkind with an ever-ready smile. "Or that women should be expected to do everything because I am. I'm not doing everything."
Ardern will take six weeks of parental leave. When she returns to work, her partner, Clarke Gayford, who hosts a television show about fishing, will become a stay-at-home father.
The pair said Gayford and their child would travel with Ardern whenever possible.
Winston Peters, the deputy prime minister, officially assumed the role of acting prime minister after Ardern was admitted to hospital.
Under the arrangement, Ardern will still be consulted on major decisions, including issues of national security. She has said she's confident the government will continue to run smoothly in her absence.
During the 2017 election campaign, an interview with Ardern went viral and sparked a debate about sexism after a TV show host quizzed her on her baby plans just hours into the job.
"I elected to talk about it, it was my choice," she answered.
"But, you," continued Ardern, visibly angry, turning her chair to face show host Mark Richardson and pointing her finger directly at him. "It is totally unacceptable in 2017 to say that women should have to answer that question in the workplace. It is unacceptable."
Reaction on social media was largely positive following the news, with New Zealanders congratulating their prime minister on her announcement.
Ardern's long-shot victory last year, which made her the country's youngest leader in 150 years, crystallized a moment of national enthusiasm known as Jacinda-mania. Her pregnancy again gave normally reserved New Zealanders an opportunity for a rare public display of excitement.
Ardern said she had been flooded with gifts ahead of the baby's arrival, but that she returned or donated any that were sent to her by companies, and kept only personal presents from people she knew.
A group of knitters started a campaign called #KnitforJacinda to donate knitted baby goods to New Zealand hospitals for distribution to families.
Ardern and Grayford didn't reveal their baby's gender and recently admitted they had struggled with deciding on a name.
At her last news conference before she left the capital, Ardern said the process of choosing a name for the baby was going "terribly."
"Do you have any suggestions?" she asked reporters.
That also sparked a nationwide online brainstorm, with thousands of New Zealanders speculating over the baby's gender and name.
The couple's unwed status, she said, was not a "deliberate decision."
"It sounds terrible, because we're very committed to each other. [Marriage is] just not something we've really gotten around to."
"We haven't correctly sequenced, perhaps," she laughed.
Ardern describes herself as a nerdy overachiever — an "absolute girly swot" in Kiwi speak — from an early age. The daughter of a police officer and a school lunch lady from a farm town on the North Island, she threw herself into left-wing activism, joining the Labor Party at just 17.
"My whole reason for getting into politics was because I had this strong duty to care for other people," said Ardern.
She cast her first vote for Helen Clark, who became the nation's second female prime minister in 1999. In 2008, Ardern became the head of the International Union of Socialist Youth, as well as the youngest member of the New Zealand's parliament.
Because of the women who came before her, Ardern said, she never had the sense she couldn't reach her goals.
"The sentiment in New Zealand," she said, is that "people should have a fair go. They should have a shot, they should have a chance to prove themselves."
Ardern became leader of the Labor Party just seven weeks before the September 2017 election. With an appealing political natural at the helm, Labor began a rapid rise from the depths of the polls, but on election day no party won a majority.
To form a coalition government, Ardern teamed up with the very conservative New Zealand First party. Ardern agreed to give the leader of New Zealand First, Peters, the post of deputy prime minister.
Even many of the people who didn't vote for Ardern seem to be rooting for her, won over by her humor and candor.
Dubbed "Jacinda-mania," the post-election honeymoon is an added perk for the prime minister, who delights in the reactions of the little girls she meets. "If they see a woman in a job like this and it has an effect," she said. "Then that's wonderful."
Ardern's priorities as prime minister include fighting child poverty and climate change, and she was critical of the recent U.S., French and British strike on Syria.
She ran on cutting immigration, and has proposed making it harder for non-resident foreigners to buy local real estate. Foreign investment helped drive average home prices in the country's biggest city, Auckland, up to NZ$1 million (US$684,000), out of reach for many locals.
But she said she was "infuriated" when the Wall Street Journal compared her immigration policies to Donald Trump's in a tweet. She's not building a wall, she said.
"We're campaigning to double our refugee quota," said Ardern. "We are a nation built on immigration. The suggestion that I was leading something that was counter to that value made me extremely angry."
Ardern said she believes New Zealand will become a republic during her lifetime. Headlines during Ardern's campaign suggested she wanted to "Ditch the Queen."
"[Queen Elizabeth's] response has always been these are matters for New Zealand," she said.
She said she won't push the issue, at least not now. Leading the country, having a baby and taking on the Queen might be too much even for her.(SD-Agencies)