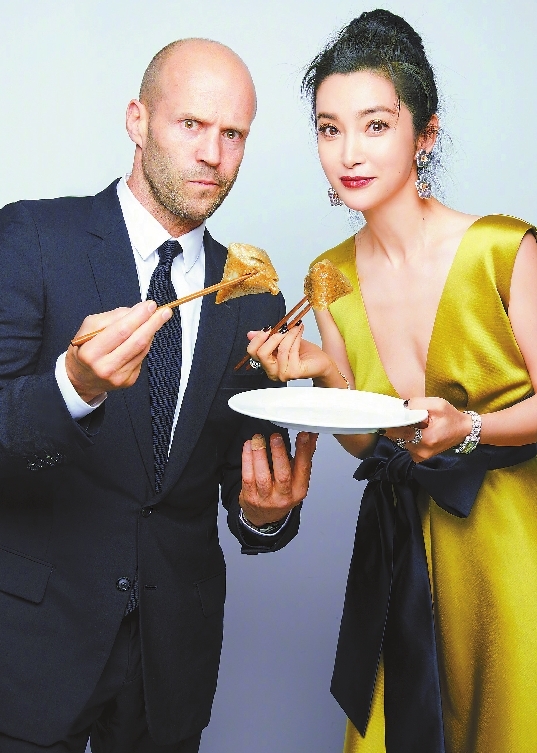 CHINESE actress Li Bingbing has been one of China's biggest film stars for nearly a generation and she's no longer a newcomer to Hollywood.
She aided Milla Jovovich in the battle against the undead in the "Resident Evil" franchise and played a sizable part in Michael Bay's "Transformers: Age of Extinction," which earned US$1.1 billion worldwide.
But her next release — a starring role opposite Jason Statham in Warner Bros.' giant shark movie "The Meg" — could prove her most memorable international breakthrough.
Li's role is her meatiest to date in a big-budget, U.S.-backed movie. "The Meg" follows Statham's character Jonas Taylor after he escapes an attack by what he claims was a prehistoric shark. After losing his credibility and nearly everything, Taylor must confront his fears to help save the passengers trapped in a sunken submersible, including his formidable ex-wife, played by Li. Directed by Jon Turteltaub, "The Meg" opens worldwide in August.
"The first time they contacted me about 'The Meg' was in 2015, and I actually just said no without even thinking much, because I knew there would be a lot of shooting in water and I didn't want to do that. The Chinese, you know, we believe the cold is bad for health. We always drink hot water and prefer to eat hot things," Li told The Hollywood Reporter in Shanghai.
"But then they kept contacting me and later asked me to reconsider. I decided to say yes just two weeks before they were starting shooting. But now I knew that it was going to be very difficult for me, because I only had two weeks to learn my lines. I'm not a native English speaker, so I was really strict and hard on myself. I spent every moment practicing every day."
Li said she was a little scared to meet Statham at first because she thought he would be just like he is in his movies. "I was worried about making him impatient but during rehearsals he was sweet and supportive."
Li believes that good acting is about showing a ton of emotion. "I have enough life experience now to perform deeper characters better. You have to have these experiences and emotions in real life before you can actually act them out."(SD-Agencies)