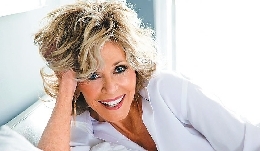 JANE FONDA will be honored with a lifetime achievement award at Michael Moore's Traverse City Film Festival, it was announced Wednesday by Moore, the festival's founder and president.
The award will be presented to Fonda during the fest's 14th edition, which is set to run from July 31 to Aug. 5 in Traverse City, Michigan.
A seven-time Oscar nominee and two-time winner, Fonda, who currently appears on the big screen in "Book Club" and opposite Lily Tomlin on the Netflix series "Grace and Frankie," is known as much for her lifelong commitment to social causes as for her onscreen work.
The event will present a 40th anniversary screening of "Coming Home," a screening of "Julia" and a free nighttime screening of "Nine to Five" projected on at the festival's open space on the shores of Lake Michigan.
Beyond her acting career, Fonda currently chairs the Georgia Campaign for Adolescent Pregnancy Prevention and sits on the boards of Women's Day Media Center, which she helped found, and V-Day: Until the Violence Stops. She established the Jane Fonda Center for Adolescent Reproductive Health at the Emory School of Medicine and has long been a leading advocate for environmental issues, human rights and the empowerment of women and girls.(SD-Agencies)