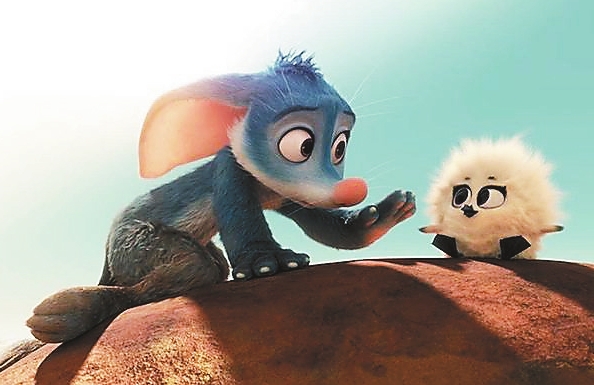 Dreamworks Animation announced in 2017 that it had cancelled production on "Larrikins," an animated musical feature set in the Australian outback featuring a bilby* (rabbit-bandicoot) named Perry. But Perry and some of the other characters will find an audience via a touching new short, "Bilby," which premiered* at the close of France's Annecy International Animation Festival two weeks ago. Now sights are set on awards season.
Also set in Australia, the dialogue-free short follows Perry as he tries to protect a cute little bird named Kylie from the dangers of the outback.
Containing both brisk action and emotive characters, the short was written and directed by Pierre Perifel, JP Sans and Liron Topaz. The directing trio came from "Larrikins" animation department, and as Topaz explains: "The assets existed, and we started to think about how we could turn this into a short film. The environment that he was in was the most dangerous place to find a cute furry animal. That was already a pretty interesting contrast. We thought, 'How can we tell a story about the relationship, not giving up and doing what it takes to protect her?' It grew into more of this character becoming a father, or part of a family, from being on his own and just trying to survive."
"He was very independent. He was a survivor," Sans explains of how their protagonist* begins in the short. "But Perry's heart is stronger than anything else. Before you knew it, he made this emotional connection that he just can't walk away from."
Without dialogue, the storytellers relied on creating emotive characters, as well as a score from their composer Benjamin Wallfisch.
"The music was very important because there's no dialogue," says Perifel. "It moves from very powerful music at the beginning, very primal, to something much more lyrical when Kylie joins the story."
The production was also used to test some new software that will be used for upcoming feature production. That includes Moon Ray, a light rendering* engine; Sprinkles, a tool for scattering debris; Locomation, an animation tool for creating motion; and an upgraded wind system.(SD-Agencies)