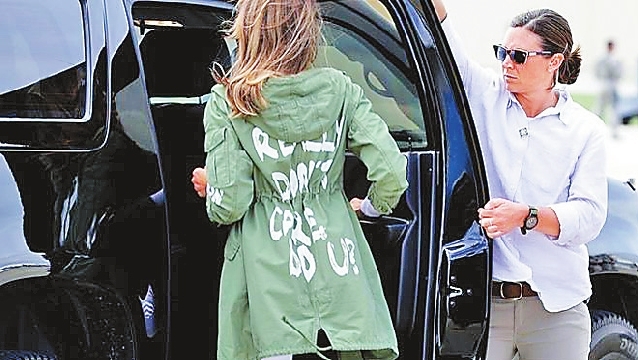 众星调侃梅拉尼娅·特朗普参观流动儿童中心时所穿的"我不在乎"夹克
Stars have been issuing strong responses to Melania Trump's appearance on a trip to a center for migrant children on Thursday.
The first lady wore a US$39 Zara jacket with the slogan "I really don't care, do u?"
Since then, other people have had their own ideas about alternatives interpretations.*
Jill Vedder, wife of Pearl Jam singer Eddie Vedder, was one of them, wearing a "Yes we all care, y don't u" jacket to the band's show in Milan.
The group's official Twitter account posted a photo of Jill, wearing the jacket, backstage during Sunday night's gig.
Husband Eddie Vedder even brought the 40-year-old former model onstage during the concert, showing off his wife's jacket to the crowd. She later said he stole the jacket for himself.
Actress Jenna Ortega wore a white jacket daubed with the words "I do care and u should too" at the Radio Disney Music Awards on Friday.
The 15-year-old who has starred in "Jane the Virgin" and "Iron Man 3," says she wore the jacket to show she cared about migrant children.
She added: "And as first lady of the United States, she should too."
Companies in the fashion industry have also taken note, with Wildfang, based in Portland Oregon, launching their own jacket for US$98 that has the slogan "I really care, don't you?"
All proceeds for the jackets, which have since sold out, will go to The Refugee and Immigrant Center for Education and Legal Services in Texas, the company said.
(SD-Agencies)