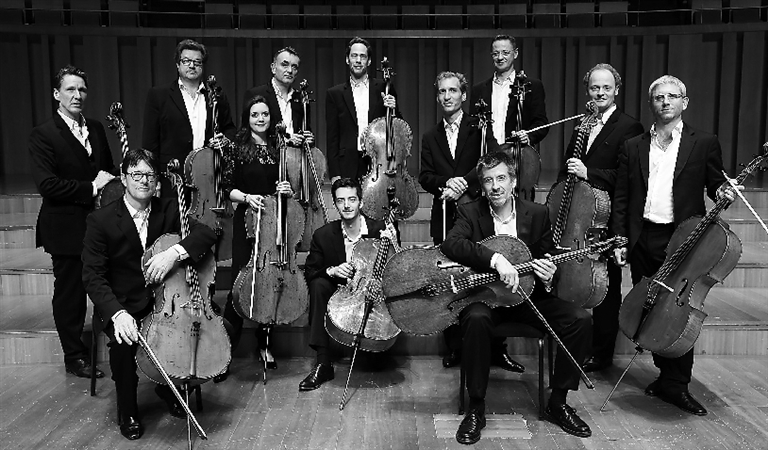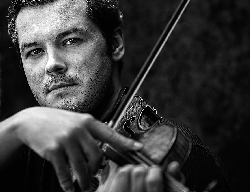 The 12 Cellists of the Berlin Philharmonic
The 12 Cellists of the Berlin Philharmonic, an ensemble featuring the cellists of the Berlin Philharmonic, will present Chopin's "Mazurka, Op. 56," Faure's "Pavane," Hupfeld's "As Time Goes By," Horner's "My Heart Will Go On," Shearing's "Share Lullaby of Birdland," Duke Ellington's "Caravan," Piazzolla's "Fuga y Misterio" and Villa-Lobos' "Bachianas Brasileiras No. 1."
The 12 Cellists of the Berlin Philharmonic has long been a prominent group in international musical life. It was in 1972 that a radio production of Julius Klengel's "Hymnus for 12 Cellos" with the Berlin Philharmonic members became the impetus for founding a solo ensemble of this formation. Its exceptional tonal and virtuosic qualities soon took worldwide concert audiences by storm, and now the ensemble enjoys a remarkable international following.
Whether they're playing the classics, jazz, tango or avant-garde, listeners are invariably fascinated by the wide range of unique and intoxicating timbres that these 12 cellos can produce, and their mixture of seriousness and humor, of depth and lightness, appeals to audiences of all ages.
The group's members have changed over the years. Founders have entered retirement and younger colleagues have also moved on. Continuity and renewal have formed a productive alliance in the history of the ensemble, as you can hear for yourselves.
Time: 8 p.m., July 5
Tickets: 180-880 yuan
Vadim Repin
Violinist Vadim Repin will play Debussy's "Violin Sonata," Prokofiev's "Violin Sonata No. 2," "Five Melodies," Grieg's "Violin Sonata No. 3" and Tchaikovsky's "Meditation" and "Valse-Scherzo."
Repin was born in Siberia in 1971. At only 11, he won the gold medal in the International Competition for Young Violinists in Honor of Karol Lipinski and Henryk Wieniawski held in Lublin. Soon, Repin gave his recital debuts in Moscow and St. Petersburg. At the age of 17, he became the youngest winner of the violin section of the Queen Elisabeth Music Competition in Brussels, the world's premier violin competition. He was a member of the jury in the 2009 violin section of this competition.
Repin specializes in Russian and French music, particularly the great Russian violin concertos, as well as 20th century and contemporary music. New music in his repertoire includes works by John Adams, Lera Auerbach and Sofia Gubaidulina.
Time: 8 p.m., July 4
Tickets: 100-680 yuan
Venue: Shenzhen Concert Hall, intersection of Hongli Road and Yitian Road, Futian District (福田区红荔路和益田路交汇处深圳音乐厅)
Metro: Line 3 or 4 to Children's Palace Station (少年宫站), Exit D(SD News)