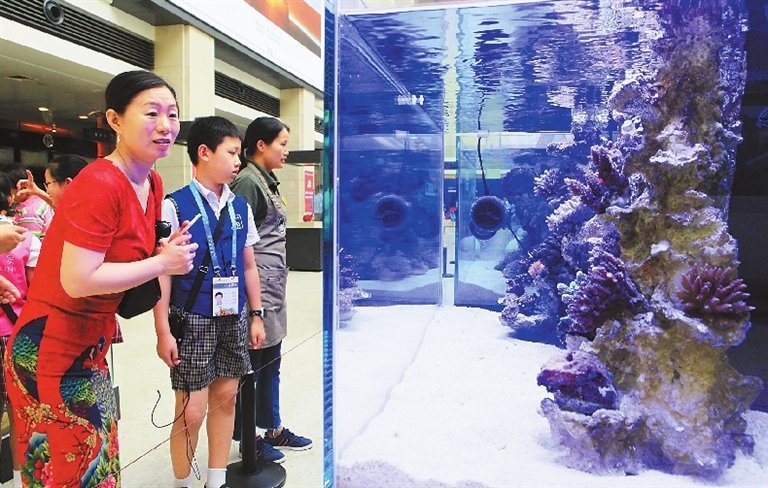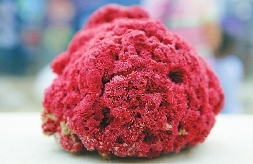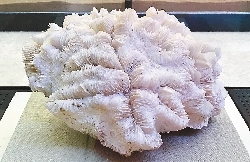 Cao Zhen
caozhen0806@126.com
More than 100 specimens of marine creatures, such as corals, green sea turtles, swordfish and cowfish, are on display at Shenzhen Museum to spread marine knowledge to Shenzheners.
Co-organized by the museum and Hong Kong's Leisure and Cultural Services Department, the exhibition is part of the Hong Kong Muse Fest 2018. Some specimens are on loan from Hainan Sanya National Coral Reef Nature Reserve and Guangdong Ocean University Shenzhen Research Institute.
"We believe that 'green hills and clear waters are gold and silver mountains,' so along with this popular science exhibition, we will also organize lectures on corals and an outdoor marine science research in this summer," said Ye Yang, director of Shenzhen Museum.
According to Xiao Baohua, executive deputy director of Guangdong Ocean University Shenzhen Research Institute, there are 68 species of corals in Shenzhen and the coral coverage rate is still increasing thanks to efforts by the public and the government.
"Shenzhen is the only highly developed city in China to have corals. The marine environment and water quality in the east Shenzhen sea benefit largely from corals. But corals also rely on environmental cues. Half of Shenzhen corals are not very healthy due to human impact. Warming causes coral bleaching, which if severe kills corals," said Xiao.
"Corals only account for about 0.2 percent of the world's sea area, while serving as a breeding grounds for a quarter of the world's marine creatures. A healthy coral reef has a striking level of biodiversity in many forms of marine life," he added.
Dates: Until Aug. 26
Hours: 10 a.m.-6 p.m., closed Mondays
Venue: Shenzhen Museum, Block A, Civic Center, Futian District (福田区市民中心A区深圳博物馆)
Metro: Line 2 or 4 to Civic Center Station (市民中心站), Exit B