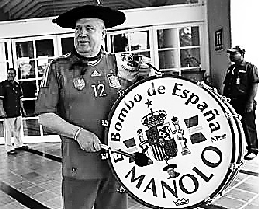 SPAIN'S superfan Manolo Caceres has made huge personal and financial sacrifices to support his country, beating his massive drum, but after following his team to 10 World Cups he says he has no regrets at all.
"I've given up everything for football — my businesses and everything — but I'm still alive. I'm happy, I get to follow Spain everywhere. What more could I ask for?" he tells Reuters.
Caceres, known as Manolo El del Bombo (the man with the drum) and instantly recognizable due to the huge instrument he always has with him, first traveled abroad to watch Spain play in Cyprus in 1979.
Regulations have prevented him from banging his giant drum at Spain's games at this World Cup. The Spanish Football Federation took the matter up with FIFA.
The Spanish federation has taken such a liking to Manolo that they now pay for his travel and accommodation when he goes to watch the team.
"No one used to follow the national team. The people said this guy with the drum is nuts, but I just wanted to support Spain and to represent my country."(SD-Agencies)