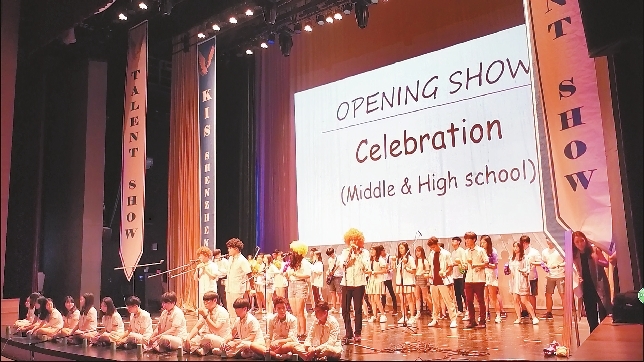 Cecilia Tan
cicitan2011@gmail.com
The annual talent show at Shekou's Korea International School (KIS) kicked off last week at a theater in Nanshan Cultural and Sports Center.
Students from kindergarten through high school all participated in the talent show. Each grade was required to present one performance on stage and the extra-curricular clubs such as band, dance and taekwondo also brought the audience excellent performances.
Daniel Lim, principal of the school, said the show aims to provide a chance for students to showcase their performance skills and develop their talents. "We want to show the parents that their kids show potential in their talents," he said.
"Our students come from almost 20 different nationalities. They can experience very different cultures here. It will help them experience a wide range of different cultures so that they can work together with people of different backgrounds," he added.
Caroline Rugaba, a French woman whose son performed on stage, said she loves the school because of its curriculum and culture. "I love the mix of kids at the school. I heard of it through my friends and then I visited it and decided to send my son here. Very soon my daughter will also enroll in it," she said.
"I presented two shows today with my friends," said Kim Seojin, who was also a hostess of the show. "I studied here for two years and I feel it is very warm. Hopefully I'll go to the Korean university to study Chinese after graduating."
KIS opened in 2005 and has seen 13 classes of graduates so far. It evolved from a Korean middle school to an international school that offers pre-school to high school education to the local community.