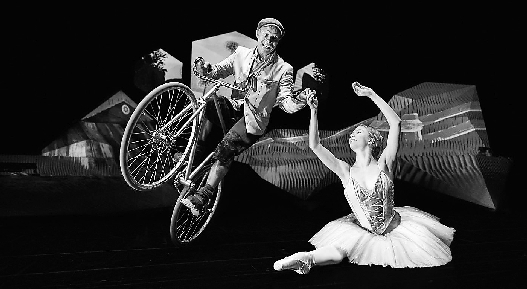 Danish director Steen Koerner will present his stage show "Hans Christian Andersen — Life Is a Fairytale" in Shenzhen next week.
Starring Nikolaj Lie Kass as Danish author Andersen, this 90-minute presentation brings famous fairytales like "The Ugly Duckling," "The Princess and the Pea," and "The Emperor's New Clothes" to life using cutting-edge 3-D technology that integrates physical objects with three-dimensional light structures. With music from three famed Danish composers — Jesper Mechlenburg, Joakim "Yo Akim" Hjelje and pianist Bent Fabricius-Bjerre — it's a multi-sensory spectacle following the author's magical trip through his own creations.
Although a prolific writer of plays, travelogues, novels and poems, Andersen is best remembered for his fairytales. However, Andersen's popularity is not limited to children: His stories express themes that transcend age and nationality.
Andersen's fairytales have become culturally embedded in the West's collective consciousness, readily accessible to children, but presenting lessons of virtue and resilience in the face of adversity for mature readers as well. His stories have inspired ballets, plays and films.
Time: 7:30 p.m., July 10
Tickets: 99-499 yuan
Venue: Nanshan Cultural and Sports Center, 2106 Nanshan Boulevard, Nanshan District (南山区南山大道2106号南山文体中心)
Metro: Line 1 to Taoyuan Station (桃园站), Exit B(SD News)