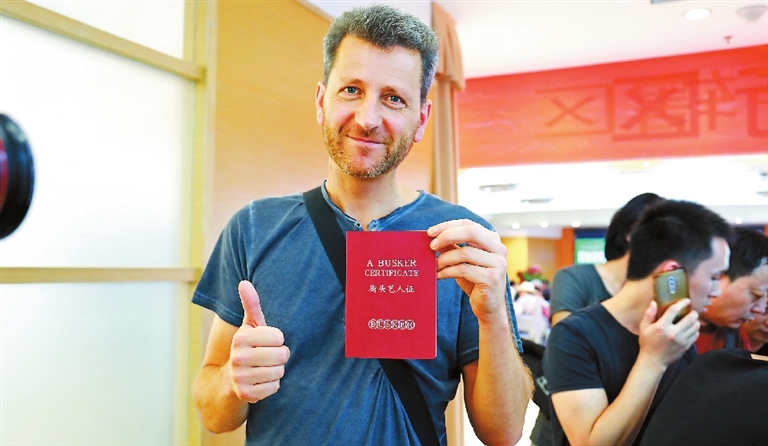 A CEREMONY for the awarding of certificates to street performers was held at Lianhua Subdistrict Office in Futian District on June 30 with 78 performers receiving their certificates after a rigorous selection process, the Shenzhen Special Zone Daily reported.
Among the 78 artists who received the certificate, 48 had already received it last year whereas the other 30 performers, accounting for 38 percent of the total recipients, were first-time licensees.
At the ceremony, all of the street artists signed a self-discipline pact for promoting the orderly use of their new right to play music publicly, containing items stating that they would work within their own specified areas, control performance volumes, and preserve public order and public health.
Guided by Futian's publicity department and Lianhua Subdistrict Office, the association of street arts in Futian District manages street performers at the Civic Center square. The management of performers was first implemented in 2015, aiming to officially recognize street arts as a part of urban life.
Many new artists, including renowned celebrities from home and abroad, became licensed performers for performing at the Civic Center square in the last few years. Some of them later built their own art studios or worked for some well-known art companies.
By 2018, more infrastructure and services will be provided to support street performers, according to the report. Street artists will be promoted through both online and offline campaigns. A system for providing professional training to street performers may also be set up to improve their live performance skills.
According to an insider, the boost of street artists reflects the joint efforts from many parties and the inclusive and creative city management model that makes Shenzhen a dynamic and artistic city.
(Cui Chenxin)