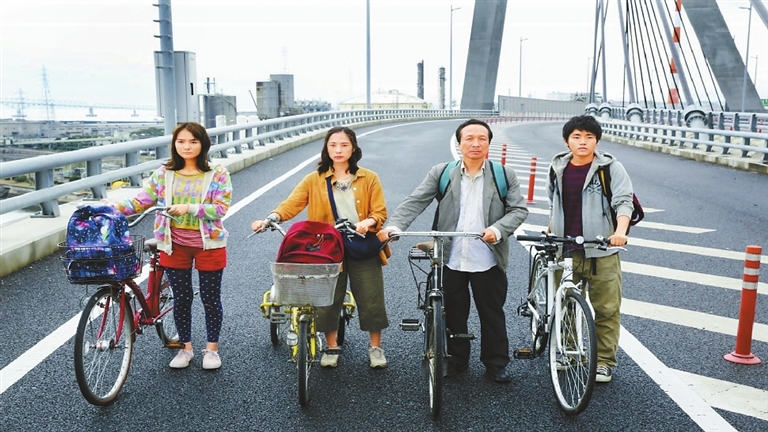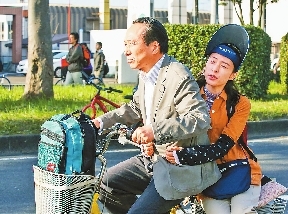 Voices: Fumiyo Kohinata, Eri Fukatsu, Yuki Izumisawa, Wakana Aoi
Director: Shinobu Yaguchi
RUGGED realist dramas, fantastical monster movies, animated teenage romances — Japanese filmmakers have mined a wide variety of fiction-film genres to reflect on the earthquakes, tsunamis and nuclear plant meltdowns that devastated their country in 2011. With "Survival Family," director Shinobu Yaguchi has taken to the road movie to articulate the collective anxiety still haunting his home country.
Giving his city-dwelling protagonists the task of finding a habitable pasture in an extended global blackout, Yaguchi has delivered a gripping but ultimately feel-good chronicle of the evolution of a spoiled, self-indulgent family at a time of crisis.
A mellow and at times even comical take on the post-apocalyptic movie, "Survival Family" is a slick and family-friendly production that calls on massive resources in making its characters' circumstances staggeringly real. The emptied neighborhoods, vehicle-free highways filled with walking extras and the appearance of a steam locomotive in the film's grand finale are all there possibly thanks to the backing of the Toho Studio and the Fuji Television Network.
But there's nothing soap-like about "Survival Family," unlike many a best-selling blockbuster emerging from Japanese mainstream cinema these days.
Here, Yaguchi's protagonists-in-peril look as ordinary as one would expect of a Japanese family. The patriarch (Fumiyo Kohinata) is a bossy, middle-aged office executive, while the mother (Eri Fukatsu) is a ditzy homemaker burdened with all the domestic chores; the son (Yuki Izumisawa) is a sulky university student who seals himself off in his room with his headphone and computer, while the teenage daughter (Wakana Aoi) is a fussy princess who spends all her time texting her equally fussy friends.
What these divergent and often bickering characters share is a common disdain for anything beyond their urban, modern realm — a sentiment illustrated in the film's first few pre-title minutes, when they disparage one of the latest parcels of organic produce the grandfather sends over from his village in the rural hinterlands. Such pride, of course, comes before a fall: The family wakes up the next morning to a world in which anything electric — from trains to television sets, cookers to clocks — has stopped working.
As the days roll on, the discontent snowballs — and Yaguchi's light-hearted depiction of hoarding, price-gouging and general pushing-and-shoving offers some debunking of that much-vaunted myth about Japanese self-restraint in the face of adversity. Running out of supplies in a world where bartering is the only way to survive, the family hits the road for their ancestral village, with the hope of finding food and shelter on the way.
What follows is a stream of encounters and episodes which slightly and slowly alter the personalities of the four characters and the dynamics between them.
The youngsters learn about responsibility just as the adults discover the errors of their paternalistic ways, while all of them are jolted out of their dependence on modern conveniences. While not exactly called upon to deliver very nuanced performances here — Yaguchi is more at home with big-hearted dramas than existentialist family-meltdown exercises like Kiyoshi Kurosawa's "Tokyo Sonata" — the four lead actors deliver sufficiently measured turns.
They are also very good sports in getting down and (literally) dirty with all the challenges their characters face on the journey, as they wrestle with rainstorms, rabid dogs and runaway poultry among many obstacles. Their struggles — and those of their fellow survivors in the city and the countryside — are vividly documented through Takahito Kasai's handheld camerawork, a style which adds an in-your-face documentary-like sheen to the film.
Armed with Katsumi Nakazawa's production design, "Survival Family" transforms what could have been a grueling apocalyptic narrative into a palatable family drama with thinly veiled morals and plentiful of fish-out-of-water humor to boot.
The movie is now being screened in Shenzhen. (SD-Agencies)