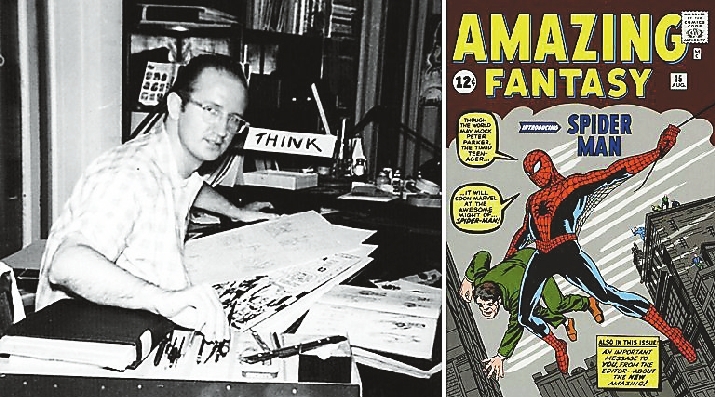 STEVE DITKO, the Marvel Comics artist who gave the world the woven webs and soaring red-and-blue shape of Spider-Man and the other-worldly shimmer of Doctor Strange, has died, authorities said Friday. He was 90.
Ditko was found June 29 in his Manhattan apartment and was pronounced dead at the scene, NYPD said. No further details were immediately available.
Ditko, along with writer Stan Lee, introduced the world to Peter Parker and his alter-ego Spider-Man in 1962 in an issue of "Amazing Fantasy."
A year later, Ditko created the surgeon-turned-metaphysical superhero Doctor Strange.
Spider-Man would go on to become arguably the most indispensable and recognizable character in the Marvel universe, and Doctor Strange a member of its permanent pantheon. The adventures of both have been turned into blockbuster films, and both had essential roles in the recent "Avengers: Infinity War."
Aside from the legacy he left at Marvel, Ditko also did two short stints at DC Comics beginning in 1968. Though he only stayed a year, Ditko left his mark with several unconventional characters, including his signature creation the Creeper, a vigilante crime-fighter with a sinister appearance and a warped sense of humor.
"A Ditko comic never looked like anyone else's," said DC Entertainment Publisher Dan DiDio. "Aside from his deceptively simple art style — which was uniquely Ditko's—he was a master at plotting and filling his stories with energy."
The son of a steel-mill worker, Ditko was born in Johnstown, Pennsylvania, in 1927. He served in the army in Europe after World War II and began working in comics in the 1950s in New York, eventually landing a drawing job with Marvel forerunner Atlas Comics.
Jack Kirby, Lee's artist on the "Fantastic Four" and many other Marvel characters, took a stab at creating Spider-Man in 1961, but Lee was unsatisfied and gave the gig to Ditko, who gave Spidey the essential look he still has today.
Ditko left Marvel in 1966 but returned in 1979. One of his later creations was Squirrel Girl, who after her debut in 1992 became a cult favorite among comics fans.
He maintained a writing studio in Manhattan until his death, but had no known surviving family members and was an incredibly private person.
According to DC Entertainment, Ditko once said, "I never talk about myself. My work is me. I do my best, and if I like it, I hope somebody else likes it, too."
(SD-Agencies)