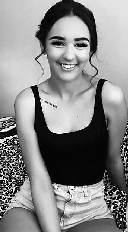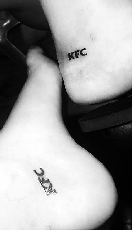 AN Australian teenager has won free KFC for a year — for getting a tattoo of the brand's logo on her foot to show her "dedication and love" for fried chicken.
Brooke Collins won the £2,900 (US$3,800) "Chicken Cheque" for her entry on the KFC Facebook page, where fans were asked to leave a comment explaining why they deserved the prize.
The 19-year-old school-leaver — known as a "schoolie" in Australia — was crowned "Queen of Chicken 2018" for her and a friend's matching KFC tattoos.
She wrote: "If that doesn't show dedication and love for KFC then I dunno what does."
Brooke, from Sydney, said she and her pal Brielle Sharkie "both had a bond over KFC during year 12, and both wanted to get matching tattoos at Schoolies."
She explained: "I ended up making a status to see if we would get a certain amount of likes and we would get it, and obviously we did.
"So we got to the Gold Coast and had time to kill before check-in, and basically went and got the tattoos after being at Schoolies for not even half an hour!
"The tattoo shop people honestly could not believe us when we asked for what we wanted."
The winning prize entitles her to £55 worth of KFC products each week, for 52 weeks.
Brooke, who works at a physiotherapy clinic, said it was a "big deal for me."
She said: "Brielle and I always were hoping something crazy would come out of it, and here it is."
Earlier, KFC chief marketing officer Angela Richards said the fast-food chain was looking for weird and wacky stories, or chicken-loving tributes, to mark National Fried Chicken Day on last Friday.
Brooke isn't the first Aussie to get a KFC-inspired tattoo.
The Sun Online told in October how Tom Fletcher, from New South Wales, showed his true love for the chain by getting the name of his favorite dish — the Zinger stacker — inked on his torso in Arabic.
(SD-Agencies)