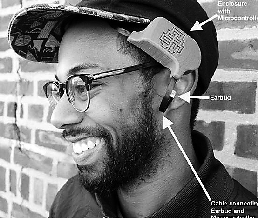 Nowadays, our society is composed of many different elements. Have you wondered how all these elements interact with each other and at the same time shape our understanding of society?
Arlene Ducao, an educator at MIT and New York University and CEO of Multimer, will share with us about how changes in digital fabrication costs are changing our understanding of population and our environment.
Ducao's talk will consist of two main areas of research she teaches at New York University: an examination of how globalization, the rise of maker culture and falling costs have changed the face of digital fabrication in China and the United States; a reflection on how maker culture and falling costs have made the technologies of crowdsourcing, wearable sensors, and citizen science all viable concepts for the development of new places, both indoor, outdoor and in virtual reality.
She will also talk about her MIT-spinoff Multimer which provides a data-driven understanding of how humans cognitively and physically experience spatial environments. Through its advanced technologies that measure biometric data to quantify human sentiment, Multimer helps architects, urban planners, and space professionals make better design interventions.
At Multimer, she developed her invention MindRider, a helmet that tracks, in real time, how your rides, movement and location engage your mind. The MindRider app maps your engagement, giving you new insight into your riding experience and providing a unique resource for riding communities and street advocacy.
Ducao makes technologies that examine the relationship between humans and their environment. At universities, Ducao presents a range of topics, from multidimensional data visualization to digital fabrication and its cultural underpinnings.
Time: 7:30-9:30 p.m., July 13
Venue: x.factory, Design Commune, Vanke Cloud City, Dashi Road 2, Nanshan District (南山区打石二路万科云设计公社x.factory)
Metro: Line 5 to Liuxiandong Station (留仙洞站), Exit A
(SD News)