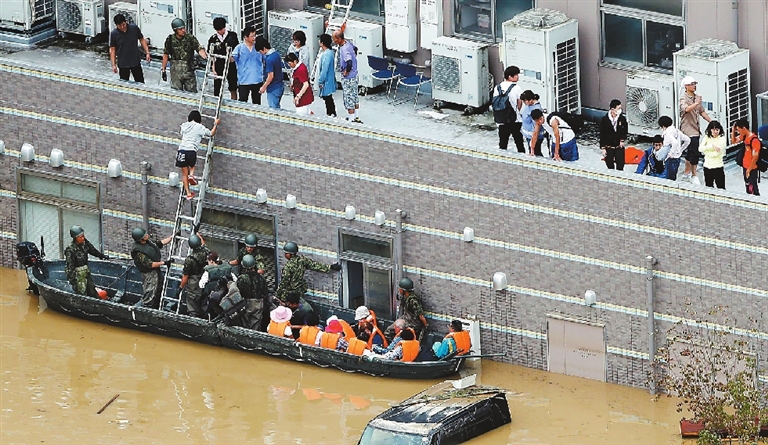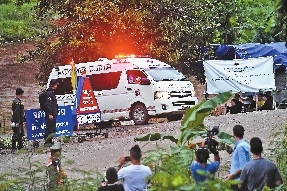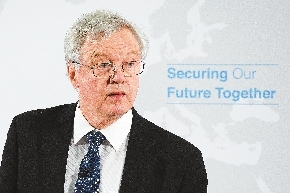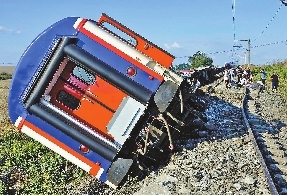 Japan floods kill at least 112
Local residents are rescued from a flooded area at a hospital in Kurashiki, Okayama Prefecture, Japan, on Sunday. Rescuers in Japan dug through mud and rubble on Monday, racing to find survivors after torrential rain* unleashed floods and landslides that killed at least 112 people, with dozens missing. It was Japan's worst flood disaster since 1983.SD-Agencies
More people brought out of Thai cave
Rescue workers in Thailand brought out four people on Monday from a flooded cave where 12 boys and their soccer coach were trapped for more than two weeks, taking the total number rescued to eight.
Witnesses near the Tham Luang cave in the northern province of Chiang Rai saw medical personnel carrying four people out of the cave to waiting ambulances over the course of the day.
The rescue operation was launched on Sunday and four boys were brought out that day.
UK's top Brexit official quits, blames May
Britain's most senior official in charge of negotiating the country's exit from the European Union resigned on Sunday, accusing Prime Minister Theresa May of undermining* Brexit with her plan to keep close trade ties with the bloc.
Brexit Secretary David Davis quit just two days after May announced she had finally united her quarrelsome* government behind a plan for a divorce deal with the EU.
It was a blow to the beleaguered* prime minister."
Turkey train disaster leaves 24 dead, hundreds hurt
Twenty-four people were killed and hundreds injured when a train packed with weekend passengers derailed in northwest Turkey due to ground erosion* after heavy rains, officials said on Monday.
The train, with over 360 people on board, was traveling from the Edirne region on the Greek and Bulgarian borders to Istanbul's Halkali station on Sunday when six carriages derailed in the Tekirdag region.
Deputy Prime Minister Recep Akdag said 24 people died, in a sharp rise from the previous toll of 10.
Ecuador seeks arrest of ex-president
An Ecuadoran court has ordered the arrest of Brussels-based former President Rafael Correa over alleged links to the kidnapping of an opponent* in Colombia.
The National Court of Justice said Judge Daniella Camacho "resolves to impose preventive detention" against Correa and has alerted Interpol.
Correa, president from 2007-2017, was one of the feistiest* characters in Latin American politics.
Dozens killed in Thailand tour boat disaster
Forty-two people were confirmed dead and 15 others remained missing after two tour boats capsized in a storm off southern Thailand's Phuket island, according to the Chinese Embassy in Thailand on Sunday.
Local police said they have charged two boat captains with negligence for the accident. Rescuers were preparing to lift the sunken Phoenix, which went down in bad weather on Thursday with 105 people on board, including 93 Chinese tourists and 12 Thai crew.(SD-Agencies)