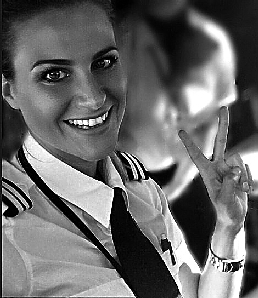 THIS is the ex-hairdressing female pilot whose behind-the-scenes shots of her job and globe-trotting lifestyle have made her an Instagram star.
First officer Sara Johansson from Boras, Sweden, has amassed more than 22,000 followers on the social media site thanks to her incredible images.
Striking shots show the stunning blonde in her uniform at work in the cockpit, while others show Sara on her days off exploring the exotic locations she gets to fly to.
The 33-year-old worked as a commercial pilot for two and a half years, flying both passengers and cargo on a Boeing 737. She now flies a Falcon 7X on corporate services.
She said, "I get a lot of messages from all over the world on Instagram.
"It's a very unique way of connecting with people. I've gotten several new close friends thanks to Instagram.
"Sometimes people come up to me asking if I'm Sara. That always makes me blush with a huge smile on face.
Remarkably Sara used to be afraid of flying before she became a pilot.
She worked as a hairdresser before finding her true calling and explained the challenges she has faced simply due to her gender.
She recalled, "I was extremely afraid of flying growing up.
"Then when I was 16 I had the opportunity to sit in the cockpit. I was completely amazed by it but at the time I was in school to become a hairdresser. Then I started a hair salon and the years went by.
"Finally I felt that my true nature is to be a pilot. So I googled the possibilities and found a pilot school nearby.
"I'm working hard to be the best professional I can be... Gender doesn't fly the aircraft. People do."
Sara hopes her Instagram and story show that it's never too late to pursue your dreams, after her late career switch.
(SD-Agencies)