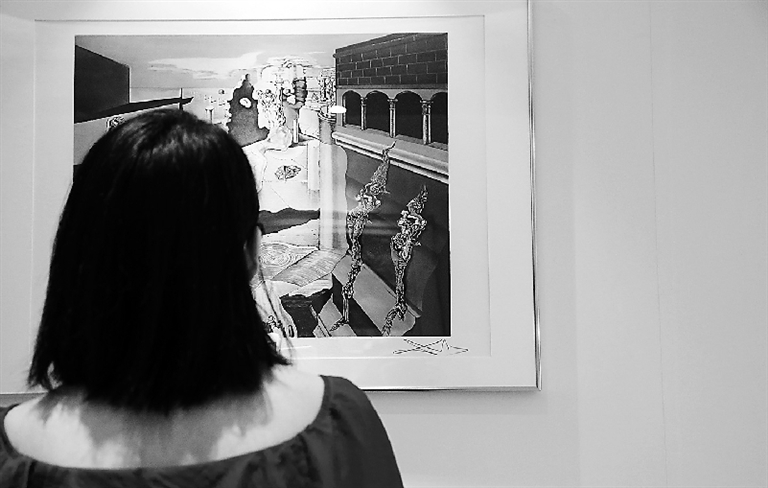 Famed print pieces of Salvador Dali are on display at the seventh floor of Tower B, Aerospace Science and Technology Square in Nanshan District. Entry is free, but please sign up by calling 2184-6888.
According to the curators, visitors will find eight famed print works, including "The Hand, Remorse of Conscience," "The Invisible Man," "Apparition de ma Cousine Carolinetta sur la Plage de Rosas," "Don Quichotte," "Le Spectre du Sex Appeal," "Galatea of the Spheres," "Don Quichotte de la Mancha" and "Santiago El Grande," along with other print pieces made by Dali with his authentic signature at the exhibition.
Dali was born May 11, 1904, in Figueres, Spain. From an early age, he was encouraged to practice his art and would eventually go on to study at an academy in Madrid. In the 1920s, he went to Paris and began interacting with artists such as Picasso, Magritte and Miro, which led to Dali's first Surrealist phase. He is perhaps best known for his 1931 painting "The Persistence of Memory," showing melting clocks in a landscape setting.
Co-organized by Atlas and BCW Orka Genre, the exhibiting venue is decorated with flowers and small installations that are inspired by Dali's prints.
Dates: Until July 27
Hours: 10 a.m.-5 p.m., closed Saturdays and Sundays
Reservation: 2184-6888
Venue: 7/F, Tower B, Aerospace Science and Technology Square, Nanshan District (南山区航天科技广场B座七楼)
Metro: Line 2 or 11 to Houhai Station (后海站), Exit J
(Tan Yifan)