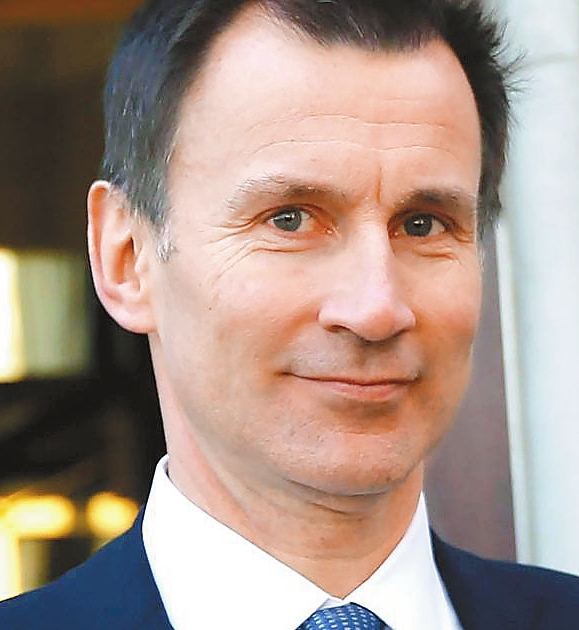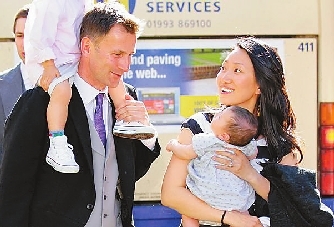 JEREMY HUNT, who was named Britain's new foreign minister Monday, has earned a reputation as someone who is not afraid of a challenge after six years in charge of Britain's notoriously unwieldy National Health Service (NHS).
Hunt, 51, has taken plenty of flak as health minister for some controversial reforms to change doctors' working hours and pay that prompted large-scale demonstrations.
He previously served as culture minister between 2010 and 2012 when he successfully fought off accusations of improper dealings with Rupert Murdoch's media empire.
A Politico profile of him last year concluded that Hunt "ticks the box to get the politically dangerous jobs done."
After he managed to secure extra funding for the NHS at a time of squeezed budgets, The Guardian earlier this year called him the "great survivor" and suggested that he may have prime ministerial ambitions of his own.
In Britain's EU membership referendum in 2016, Hunt was a leading advocate for staying in the bloc — the position of then-Prime Minister David Cameron's government.
That marks a clear difference from his predecessor as foreign secretary, Boris Johnson, a top Brexit campaigner.
But Hunt has since said he now supports Brexit, criticizing the EU's approach to negotiations as "arrogant" and "disappointing" in an interview with LBC radio last year.
Born in Kennington, London in November 1966, Hunt was brought up in the town of Godalming, southwest of London.
The eldest son of Admiral Nicholas Hunt, who was commander-in-chief fleet of British Royal Navy from 1985 to 1987, he was educated at Charterhouse, a prestigious private school, and went on to study at Oxford University, where he first became active in politics as president of the Conservative Association and was a contemporary of Cameron's. In keeping with many current politicians, he has a first-class degree in philosophy, politics and economics.
After university, Hunt worked as a management consultant and later became an English-language teacher in Japan, and now speaks Japanese fluently.
He was successful in business before entering politics. Last year he reportedly pocketed £14.4 million (US$18 million) from the sale of a company he got the idea after spending two years teaching English in Japan in the early 1990s. It made him is one of the country's wealthiest politicians.
The company, Hotcourses, runs websites that list educational courses for students around the world, and was bought for £30.1 million by Australian firm IDP Education when Hunt was health secretary.
"I … spent just under two years in Japan because I always wanted to learn a non-European language," Hunt wrote on his website May 14, 2005.
"I taught English out there, but my main purpose was to learn the language. I struggled every day to master the writing system — you need to learn 3,000 characters to read a Japanese newspaper," he wrote.
After returning to Britain from Japan, he tried out several ideas for starting new businesses, including exporting marmalade to Japan and building playgrounds for children, which all failed.
Then he got an idea of publishing guides designed for Japanese students in England, to help them find colleges and universities that suited their requirements. That eventually led to the successful establishment of Hotcourses.
"I backpacked a lot when I was at university and used the Lonely Planet travel guides. But when I later went to Japan to learn Japanese, I found it really hard to find a good school," he said during an interview with The Independent in January 2009.
"So I thought, why not produce a guide to help people who want to study rather than just travel abroad?"
Politics was Hunt's paramount interest. He entered the parliament for the first time in 2005 when he was elected as Conservative MP for the Surrey seat.
After becoming Tory leader, Cameron made Hunt the shadow disabilities minister. In a reshuffle in 2007, he was promoted to shadow culture secretary.
When the Conservative-Liberal Democrat coalition entered government in 2010, Hunt joined the Cabinet as secretary of state for culture, media and sport – a key role in the run-up to the London 2012 Olympics.
As health secretary, he has survived a series of crises, including criticisms for imposing new contracts on junior doctors, rows over NHS funding levels and accusations that he disappeared from the public sphere during winter bed shortages.
Hunt has long harbored ambitions for a new challenge, despite facing repeated calls for his resignation for overseeing real-term cuts to the NHS.
In June this year, Hunt was crowned Britain's longest serving health secretary, after serving six years in the role.
His longevity is so unusual that Theresa May has teased him about it. At a journalists' dinner earlier this year, she joked that if Jeremy Corbyn became prime minister she would be "breaking rocks in John McDonnell's re-education camp … But, of course, Jeremy Hunt would still be health secretary."
A trusted media performer on television and radio, few Conservatives would be surprised if Hunt's ambitions at some point turned towards No. 10 Downing Street.
Hunt married Lucia Guo in July 2009. The couple met at a Hotcourses event in Warwick in 2008. Guo, from Xi'an, China's Shaanxi Province, is the mother of his three children: Eleanor, Anna and Jack. The MP traveled all the way to Xi'an to get the blessing of Lucia's father before proposing to his future better half.
The couple, who resides in Surrey and London, are reportedly big music fans. They also enjoy a spot of dancing, according to The Daily Telegraph.
(SD-Agencies)
Lucia and Jeremy Hunt
1. Lucia is 11 years younger than Jeremy.
Jeremy Hunt is one of the richest politicians in the United Kingdom, largely thanks to the online education business, Hotcourses, that he founded with his childhood friend. The company has made him millions of dollars — and it also introduced him to his wife.
Hunt met Lucia Guo at a Hotcourses event in Warwick, England, in 2008. At the time, Jeremy was 41 and Lucia was 30. She was working for the University of Warwick, helping to recruit Chinese students to come to the university.
The two hit it off immediately and Hunt "allowed work and pleasure to mix for a moment," by his own account. He asked Lucia for her email address. The couple got married a year later, in 2009.
2. Lucia and Jeremy had a traditional Chinese wedding ceremony in Xi'an.
Jeremy proposed to Lucia while the pair were taking a walk near his parents' home, in the village of Shere in Surrey.
But Jeremy flew all the way to Xi'an — with Lucia in tow — to formally ask her father for permission to marry Lucia. Lucia came along to act as a translator as Jeremy didn't speak Chinese. The two married in a traditional Chiense wedding ceremony in Xi'an, China's Shaanxi Province.
3. Lucia and Jeremy have three children.
Lucia and Jeremy have three children: Jack, Anna, and Eleanor.
While he was head of Britain's National Health Service (NHS), Hunt told a call-in radio show that he was concerned that his "half-Chinese" children would experience discrimination unless the United Kingdom restricted immigration to the country. His reasoning was that as more immigrants come into the United Kingdom, anger against immigrants will increase. And, Hunt reasoned, anybody who looks different — like his own children — will suffer a backlash from anti-immgrant activists.
"I'd like to make one general point about immigration," he said. "My wife is Chinese and she obviously lives with me in London. My children are half Chinese and I do not want them to grow up in a country where people look at immigrants and say: 'it's difficult for me to access NHS services because of people like you.'"
4. Lucia partnered with Jeremy in a real estate business.
Lucia and Jeremy reportedly formed a real estate business together called Mare Pond Properties Ltd. The company was formed in order to buy up seven luxury properties in the Ocean Village development in Southampton.
But Jeremy came under fire later for failing to report the business, as was required by British law. Politicians are required to disclose any possible conflict of interest, including business holdings.
Jeremy maintained that it was an "honest mistake" and blamed it on an administrative error.
5. A member of parliament apologized after a tweet asking why Lucia moved to England.
Helen Goodman, a member of parliament for the Labor party, faced a lot of criticism after she tweeted: "If China is so great, why did Jeremy Hunt's wife come to England?"
The post generated widespread condemnation and calls of support for Lucia, Jeremy, and their children. Goodman later took the tweet down and put up a new tweet apologizing.
(SD-Agencies)