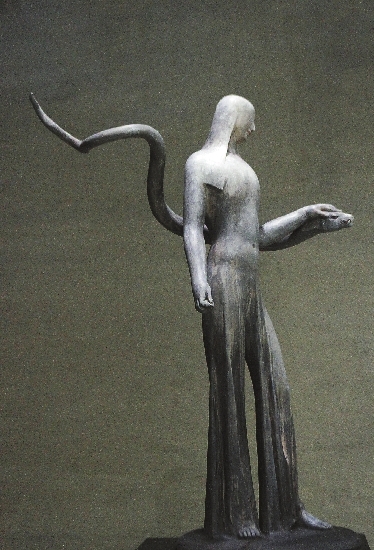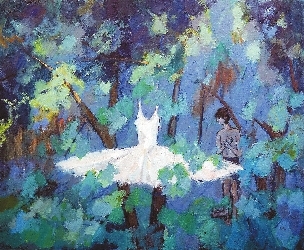 Cao Zhen
caozhen0806@126.com
Young Chinese painter Sun Yan and sculptor Ma Hongfa are exhibiting their works at the "Endogenous" exhibition at Guan Shanyue Art Museum.
A graduate from the Academy of Fine Arts of Florence in Italy, Sun said that he was influenced by Post-Impressionism and his paintings emphasize on abstract qualities or symbolic content. He uses vivid colors, thick applications of paint and real-life subject matter, but is inclined to emphasize geometric forms, distorting them for expressive effect.
Ma's iron or steel sculptures are mainly lanky humans and beasts. He said his inspiration was from ancient Chinese statues and mythology. "My wife studied relics and we have several collections of ancient statues. There is a lion statue from the Northern Wei Dynasty (368-534) that I was particularly fond of, so I made a copy of it," said Ma.
"Compared with the original statue, I found something is missing in my replica although they look identical in appearance. Then I began to study statues of the Wei, Jin and Southern and Northern dynasties and sculptures from Han to Tang dynasties. As I made more sculptures, I finished my 'Teasing Monster' series," said Ma.
Ma also got inspiration from "Classic of Mountains and Seas," a Chinese classical text and a compilation of mythic geography and mythology. "The book records many ancient beasts that have grand power, so I created a mythical story for my sculptures. The first sculpture is a mysterious animal diving from sky to ground. Then slowly, two beasts start to fight each other, fiercely and brutally. Later I created humans to conquer them; they are finally tamed and become humans' riding animals, the guardians of gods," said Ma.
"Look at the sculptures, the shape of humans who tame the beasts. They are upright and ascending. And you can feel their spirit, charm and style, like a treasure I buried inside," said Ma.
Dates: Until July 15
Venue: Guan Shanyue Art Museum, 6026 Hongli Road, Futian District (福田区红荔路6026号关山月美术馆)
Metro: Line 3 or 4 to Children's Palace Station (少年宫站), Exit B