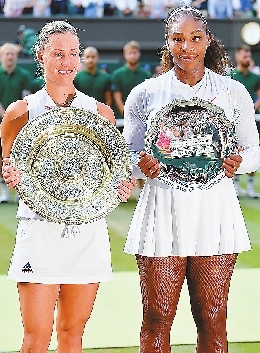 TWO years after losing to Serena Williams with a title on the line at Center Court, Angelique Kerber never really gave Williams much of a chance this time, putting together a 6-3, 6-3 victory Saturday for her first championship at the All England Club and third major overall.
"I think it's the experience. You have to go through all the things — the good things, the bad things — and then you need to learn," said Kerber, the first German to win Wimbledon since Steffi Graf in 1996.
"I know that against Serena, I have to play my best tennis, especially in the important moments," said Kerber, who won the Australian Open and U.S. Open in 2016, but was the runner-up to Williams at Wimbledon that season, "especially in the important moments."
That's just what she did.
"Angelique played really well," Williams said. "She played out of her mind."
Kerber made only five unforced errors the entire match, 19 fewer than Williams. Perhaps more impressive was this: She broke Williams in 4 of 9 service games.
In doing so, Kerber prevented Williams from claiming an eighth title at Wimbledon and 24th from all Grand Slam tournaments, which would have equaled Margaret Court's record. As things stand, Williams holds the mark for the half-century of professional tennis, one ahead of Kerber's idol, Graf.
Williams gave birth only 10 months ago, then was treated for blood clots. She wore special compression leggings as a precaution during Wimbledon, just the fourth tournament of her comeback.
After all the time away, Williams spoke about being impressed with herself for just reaching the final. She also wanted to win, of course.
"To all the moms out there, I was playing for you today — and I tried," said the 36-year-old American, her voice shaking during the trophy ceremony.
(SD-Agencies)