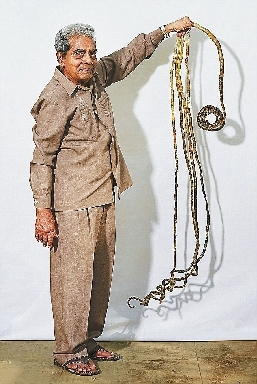 THE Indian man with the longest fingernails ever recorded has finally chopped them off – after 66 years – and now they will be displayed in a museum.
Shridhar Chillal's fingernails were nearly the same length as a bus when he finally got them trimmed after more than six decades of cultivating his huge talons.
The 82-year-old from Pune, India, had been growing his lengthy nails since he was 16 years old and holds the Guinness World Record for the longest fingernails on one hand.
Chillal was first inspired to grow out the nails on his left hand in 1952 after a teacher beat him for accidentally breaking one of his very long nails. From that day on, he vowed never to cut his own talons.
But he finally caved during a "nail clipping ceremony" in New York last week and the yellowing cuttings will now be displayed in a museum.
The ceremony took place at Ripley's Believe It or Not! Museum in Times Square, where Chillal's severed claws can be viewed by the public.
When last measured, Chillal's nails had a combined length of 8.65 meters – nearly as long as a London bus.
His longest nail was on his thumb at 1.98 meters, Guinness World Records says.
In 2014 Guinness World Records crowned Chillal the person with the longest fingernails ever on a single hand.
Chillal has said that his nails were so fragile that he had to be very careful not to break them while sleeping.
He told Guinness World Records: 'I can't move much, so every half an hour or so I wake up and move my hand to the other side of the bed."
Due to years of growing his nails and their weight, his left hand was permanently handicapped, leaving Chillal unable to open his hand from a closed position or flex his fingers.
Despite opposition from his parents, he said he would be able to work with his other hand, eventually becoming a photographer with a customized handle to accommodate his nails when using the camera.
Although Chillal suffered years of knock backs from women and their families because of his "dirty" nails, he did get married at the age 29 to his brother's sister-in-law.
But Chillal was also in pain and constantly left with a "burning sensation" from the drooping brown nails which dragged on the floor when he walked.
"It was a very difficult decision for me to cut my nails, but when I realized after cutting them they'd be at Ripley's Believe it or Not, and the museum is going to maintain them … then I felt like I was making the right decision, and that's when I decided to cut my nails."
(SD-Agencies)