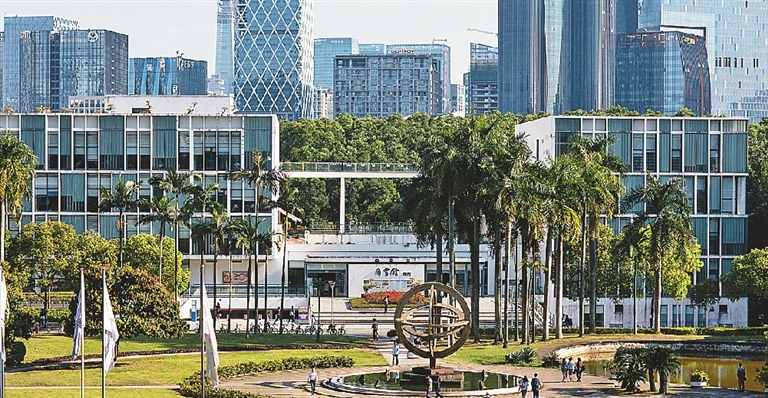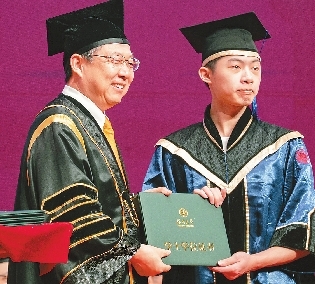 Editor's note
2018 marks the 40th anniversary of China's reform and opening up. The Guangdong-Hong Kong-Macao Greater Bay Area strategy, which was mentioned in China's 13th Five-year Plan (2016-2020), provides Shenzhen with new impetus in deepening reform. As one of the vital driving forces for development, higher education that breeds and gathers talents is crucial to the development of the Greater Bay Area. In the series to come, Shenzhen Daily talks to experts and leaders of higher institutions who spearhead education reforms to review the achievements and look into the future of the city's talent strategies.
Zhang Qian
zhqcindy@163.com
AS the president of Shenzhen University (SZU), the city's first university founded by the Shenzhen Municipal Government in 1983, Li Qingquan spoke to Shenzhen Daily on how the university is fulfilling its goal of becoming an institute with global impact in late April.
In the president's eyes, the university, now with 35 years of history under its belt, is as strong, energetic and youthful as ever.
"The university has been committed to being a modern and internationalized higher education institution ever since its establishment in 1983 and through its 35 years of growth. [In that time,] the university has gradually built up a comprehensive and multi-layered system of internationalization," said Li at his office on the main SZU campus in Nanshan District.
An integrated system
According to the president, to achieve the university's goal of internationalization, SZU has collaborated with overseas universities to jointly cultivate talents, developed an array of exchange programs and hired faculty members with overseas backgrounds.
"Thanks to our various efforts, cross-institutional academic exchanges and collaboration have greatly increased. The university's level of internationalization and it international reputation have been improving gradually too. And the campus life has been enriched accordingly," said Li.
Li said that since 1980s, SZU has actively sought international academic exchanges and cooperations with institutions from around the globe. Starting out with just a few academic institutions at the beginning, the university now has established cooperative relationships with 223 overseas universities and colleges from all around the world.
In one particularly advanced cooperation, according to the president, SZU has set up an overseas base that focuses on information technology and cooperates with Silicon Valley to combine scientific research, teaching and internships. Through this, SZU established the Shenzhen International Audencia Business School, a fruitful result of an international cooperation with the Audencia Business School in France.
The university has also worked with the National University of Singapore to jointly establish a collaborative innovation center for optoelectronics science and technology in 2014. A joint lab of new materials was set up between SZU and the University of Maryland in 2015.
"We are now also talking with Parsons School of Design in New York to set up a union college of design in Shenzhen," the president said.
International students at SZU have been regarded as important members of the university, said the president. SZU began to enroll international students in 1987 and now annually admits about 1,500 international students from nearly 50 countries. "The students have brought diversity, different perspectives, open minds, and a variety of positive cultural influences to the university."
The College of International Exchange (CIE) provides Chinese language courses of different levels from elementary to advanced to meet the students' needs. Apart from the language courses, more international students in recent years are studying bachelor's degrees of various majors such as international trade and economics.
Faculty members of overseas backgrounds and experiences are also valued at SZU, said Li. Currently, over 50 percent of the faculty employed by the university are either from or have studied overseas. "One of the university's goals in terms of teachers is to raise the ratio of expatriate teachers to over 5 percent," said Li. The expatriate teachers will be opening courses in English to both local and international students.
Talents with global vision
When being asked to shed lights on the term "global talent," the president said that a local talent with global visions should possess abilities to communicate and cooperate with people from other cultures as well as to have broader and deeper understanding of their own cultures. The university is working on cultivating its students to have global visions with original identities, said Li.
"Being a global talent means one can both play by international rules and promote his or her own cultures," said the president.
To achieve this goal, the university has not only launched more foreign language courses and provided overseas exchange programs, but has also set up a general education curriculum that teaches core courses to students of all majors.
For instance, an array of international summer courses provide students with opportunities to learn from guest professors from renowned overseas universities, so that students will be exposed to more international rules.
The general education curriculum, on the other hand, requires science and engineering students to gain a certain amount of academic credits in social sciences, and vice-versa, humanities students are required to study natural science subjects during the first years of their university career.
The president also stated that SZU values its alumni across the world very much. The president said he senses a strong cohesion among the alumni who call themselves "SZU People" no matter how far they travel or where they work in the world.
An associate university
Looking to the future, Li envisions a broader picture for SZU and the region. As a deputy to the National People's Congress (NPC), Li proposed the building of an associate university in the Guangdong-Hong Kong-Macao Greater Bay Area, as a way of enhancing higher education in the region, during the first session of the 13th National People's Congress in March this year.
The proposal was drafted by Li and has been favored by the heads of several universities in the Greater Bay Area, including the Southern University of Science and Technology, the Chinese University of Hong Kong, Shenzhen, the Hong Kong Polytechnic University and the University of Macao.
Li said in other bay areas in the world, such as the New York Bay Area, Tokyo Bay Area and San Francisco Bay Area, universities function as crucial talent pools that support the innovative development of those regions.
"The rapid development of the Greater Bay Area will not be possible without the support of global talents, and higher education is fundamental for the region to develop based on technology and innovation," said Li.
In Li's eyes, the Greater Bay Area is in its young age, thus a joint university is needed to concentrate all efforts and resources for common development.
The president said that universities in Europe have more flexible mechanisms that allow exchange programs and research projects between different countries, yet universities in Shenzhen, Hong Kong and Macao experience more barriers due to their differing credit systems.
A specific blueprint was mapped out for the associated university, according to Li. "It would be a comprehensive and practical university with a physical campus located near the Shenzhen-Hong Kong border, and it would be approved by the Central Government and built by the local governments in Guangdong, Hong Kong and Macao," Li said.
At the same time, Li added, the university would also function as a platform where universities around the region could have mutual exchange programs or joint courses, as well as collaborative research projects.