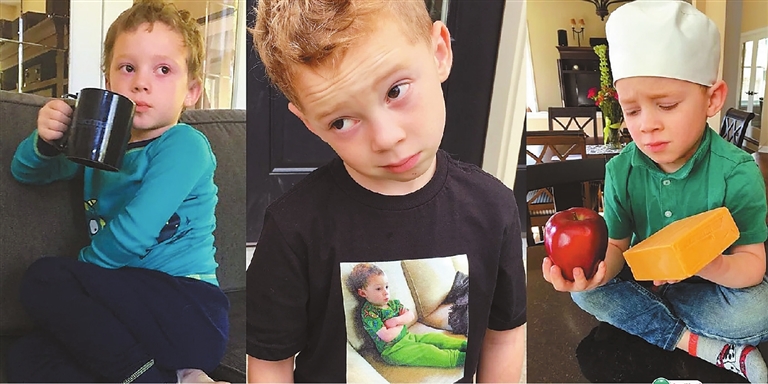 Gavin Thomas, a well-known name on social media, opened a Weibo account in China last Thursday and attracted over 360,000 followers in just two hours.
"Hey guys! It's Gavin here! Welcome to my page," the boy greets his fans in a video on Sina Weibo.
"One day I really want to go to China, and meet you, and take pictures with you," he said.
The boy gave a typical simpering smile at the end of the video.
Within one day the 7-year-old boy amassed over 1 million followers, with his first video being re-posted more than 155,000 times and still counting.
His facial expressions have been made into various funny emojis.
In China, Thomas is mostly known as "the boy with a simpering smile." That's because in many of his Vine videos he is seen in awkward situations where he has to force a smile.
The Chinese Thomas memes are often used to show a sense of helplessness, with the hope of attracting sympathy. They're also meant to convey the emotions of someone trying to stay positive despite feeling vulnerable.
Thomas shot to fame in the spring of 2014, when his uncle Vine star Nick Mastodon posted an innocuous video of the boy with a crested gecko on his forehead. Thomas kept appearing on Mastodon's Vine account over the next two years.
In the spring of 2014, Mastodon posted a video of Thomas' reaction to a lizard crawling on his forehead. The faces Thomas made were priceless, and his star took off from there. Since then, Thomas memes have been posted on top meme Instagram and Tumblr accounts and all over Twitter.
But being meme-famous at such a young age does come with its responsibilities. Thomas's mom, Kate Thomas, knows people recognize her son, but wants him to live normally.
"We've had a few people notice at school and we've worked with his teacher to make it so it's not distracting," Kate says in a previous interview. "We want him to still be a normal boy — as much as we can."
Normal is not always the case. Local trips to the grocery store or the mall often result in someone spotting Thomas and wanting a photo.
"If a person comes up to him, he'll decide if he wants to take a selfie depending on what his mood is. We absolutely leave it up to him," says Kate.
But mom plays a big, facilitating role in his success. The majority of the photos that have gone viral have been taken from either Kate's or Mastodon's Twitter or Instagram accounts.
And for those who think Thomas is just accidentally funny, the kid does have talent. He's been signed to Caryn Model & Talent Management and has been featured in commercials and print publications. Thomas has even been recognized by celebrities like Simone Biles, Laurie Hernandez, Halsey, Hoodie Allen, Katy Perry, Skai Jackson, T-Pain, and others. (SD-Agemcies)