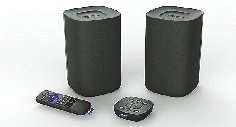 U.S. company Roku is launching its own pair of wireless speakers for the living room. They're aimed at casual TV and movie watchers who want better audio, without the headache of having to install a complicated home audio system.
Roku TV owners can order a wireless speaker bundle which also includes a new voice-powered TV remote, as well as the Touch tabletop remote powered by voice commands.
The speakers are able to connect to your home Wi-Fi network and are optimized* for different scenes and sounds playing on your TV.
The system uses Automatic Volume Leveling software, increasing the volume when there's quiet dialogue, then reducing the volume when there are loud commercials.
They also come with a Bluetooth option that allows users to pair them with their computers or phones.
(SD-Agencies)