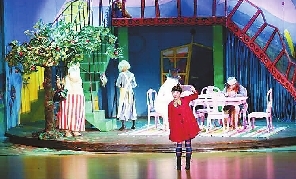 The seventh China Shenzhen Children's Theater Festival opened at Shenzhen Children's Palace on July 14 with fairytale stage play "MOOMIN" produced by Chinese and Finish artists.
The festival will last for 37 days till August 19, during which 14 quality shows by renowned children theater troupes, such as the China National Theater for Children, will be staged for audiences.
Apart from stage plays, lectures by theater educators, discussion sessions on children's theater, directing training courses and theater summer camps will also be held during the festival.
The organizing committee will invite a team of Broadway directors and experts on theater studies to Shenzhen to direct Broadway-authorized musical "Peter Pan and Wendy" for Shenzhen children, which is scheduled to be performed for two sessions on August 5. During the time the experts will teach Shenzhen children vocal skills, dancing skills of different styles, the management of facial expressions as well as stage performance skills.
Nearly 10,000 tickets will be available and residents can get the ticket at a discounted 50 yuan (US$7.49) or stationery of equal value. A total of 1,000 pieces of stationery were donated to children in Heping County of Guangdong Province at the opening ceremony.
The annual festival has run for six editions since it was first held in 2012. Every year it invites troupes of various styles to bring innovative shows. Over the past six years, its charity theater performances have reached to over 200,000 audience members including children from welfare homes and impoverished groups and families. The festival also invites theater experts to give lectures to local art teachers in an effort to improve Shenzhen campus theaters.
(Yang Mei, Zhang Lei)