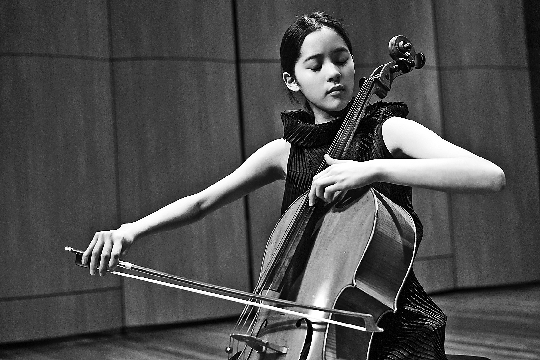 Taiwanese young cellist Ouyang Nana will present a recital in Nanshan next month.
Last year, Ouyang released her second full-length album "Cello Loves Disney" album, after the release of her first album titled "15," which includes Mendelssohn's cello sonatas, "Songs Without Words" and William Henry Squire's "Tarantella Op. 23 for Cello and Piano."
The melodies in the "Cello Loves Disney" album are from Disney's classic animations, including "Let It Go" and "For the First Time in Forever" from "Frozen," "Can You Feel the Love Tonight" from "The Lion King" and "A Whole New World" from "Aladdin."
Born in 2000, Ouyang began to study cello at age 6. She has lived under the spotlight since she was young. Both her parents, Ouyang Long and Fu Juan, are veteran actors, and her aunt Ouyang Feifei is a pop singer in Taiwan. Since childhood, Ouyang Nana has appeared on various TV shows with her parents and two sisters, Ouyang Nini, 19, and Ouyang Didi, 11.
At the age of 13, the cellist went to the United States to attend the Curtis Institute of Music, where she studied with renowned cellists Peter Wiley and Carter Brey. She later suspended her studies and starred in movies "To the Fore" and "Beijing Love Story."
"People know me from TV and movie screens. I have no idea how far my acting career can go, but I want them to know me as a cellist," said Ouyang who has signed with Universal Music China.
Time: 8 p.m., Aug. 26
Tickets: 180-680 yuan
Venue: Nanshan Cultural and Sports Center, 2106 Nanshan Boulevard, Nanshan District (南山区南山大道2106号南山文体中心)
Metro: Line 1 to Taoyuan Station (桃园站), Exit B(SD News)