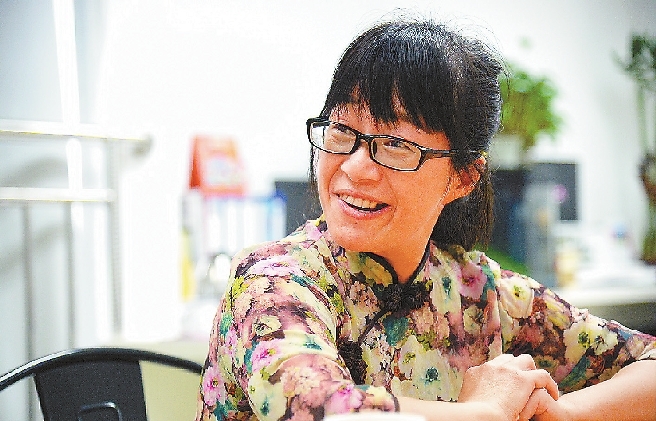 AFTER two years, famous Chinese poet Yu Xiuhua came to Shenzhen again, holding a book-sharing event on her first prose collection "Rejoice for No Reason" at Shenzhen Book City Nanshan Store on Sunday.
Born with a disability in the rural area of Hubei Province, Yu is deemed "the most eye-catching figure in China's poetic circle in recent years." She lives in a small village, and has cerebral palsy resulting in speech and mobility difficulties. But she still writes poetry, and as of January 2015 Yu had written over 2,000 poems, focusing on love, family and life.
Yu shot to overnight stardom in 2014 with her poem "I Crossed Half of China to Sleep With You" going viral online. In the same year, Poem, a national magazine, published her poetry, which made her work more famous.
Later on, she published three anthologies of poems in succession titled "The Moonlight Fells on My Left Hand," "Still Tomorrow" and "We Loved and Then Forgot." A documentary about her rising to fame and her relationship with her family as well as her divorce from her husband was released in 2016 and has been showcased in different film festivals.
Carrying on her trenchant, straightforward and poetic style, "Rejoice for No Reason" talks about love and hatred, life and death.
When talking about the creation of her first prose collection, Yu said she didn't separate the writing of poems, essays and novels from each other. Instead, she writes them at the same time. She also commented herself as a writer who doesn't work that hard.
"Literature is created in a slow way. Sometimes it takes me several months to write an article or even just a paragraph. Only after long-time accumulation can I publish a book," said Yu.
Having had two loved ones pass away in recent years, Yu said the topic she most avoids touching upon is family relationships.
"Many people don't know why I have written a lot about romantic love. I am willing to write about it because I know it will arrive, and then leave quickly. I am not that deeply engaged with this relationship. However, family relationship is something that accompanies you for your whole life," explained Yu.
She thinks that the relationship between a mother and a daughter that blends love, hatred and resentment is the most complicated one in life. In her future creation, Yu will consider writing about family relationship in a more profound way.
The cover of the new prose collection features a cactus with a flower in bloom. Almost all the questions that people are interested in have been covered in the collection.
About love, Yu writes: "All the vulgar men cannot fall in love with me, what a failure!" As for divorce, she writes: "The best luck and honor that falls on me these years is divorce."
In terms of writing, she said, "Writing with your life is putting the cart before the horse. Life is always the most important thing. Up till now, I never think writing is a salvation for me, because it's my nature. I won't give it up even when I need to beg on the street. It has nothing to do with being strong. It's just something I love, a love from my heart."
Yu disagrees with the view that poetry transcends life. "Poetry must be combined with life. It comes from life. The expressions it uses might transcend our daily life, but not that poem itself is higher than life. Because without life, there is no poem ... The two always go hand in hand," said Yu.
(Chen Xiaochun)