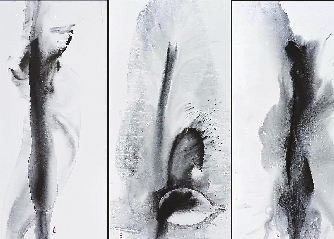 Shenzhen painter Zheng Taijun brings together a significant number of his large-scale paintings and installations at his solo exhibition at Zhi Art Museum in Shajing.
Zheng lives in Wutong Mountain and paints from dawn to dusk with the company of birds and bugs. The boundless living space in the mountain allows him to experiment with large-scale landscape works. Abstract expressionism is well-articulated in his ink paintings, which are not only empowered to express the artist's desire but also catch the viewers' inner self. Zheng's practice gives life to the Chinese literati painting tradition that has long been lost in China. His style resembles landscape painter Shi Tao (1642-1707) and Zhang Daqian (1899-1983) but the combination of traditional and modern styles makes the beauty of his contemporary ink paintings.
"The exhibition lets the visitors know that Zheng Taijun is a sincere artist. The four pieces of installations invites the viewers to the artist's world. The paintings continue to take on 'abstraction' as its expression," said Grace Du, one of the curators of the exhibition.
Dates: Until Aug. 30
Hours: 9:30 a.m.-5:30 p.m., closed Mondays
Venue: Zhi Art Museum, Shasong Road, Houting, Shajing, Bao'an District (宝安区沙井后亭沙松路至美术馆)
Metro: Line 11 to Houting Station (后亭站), Exit A(SD News)